You Cannot Be What You Cannot See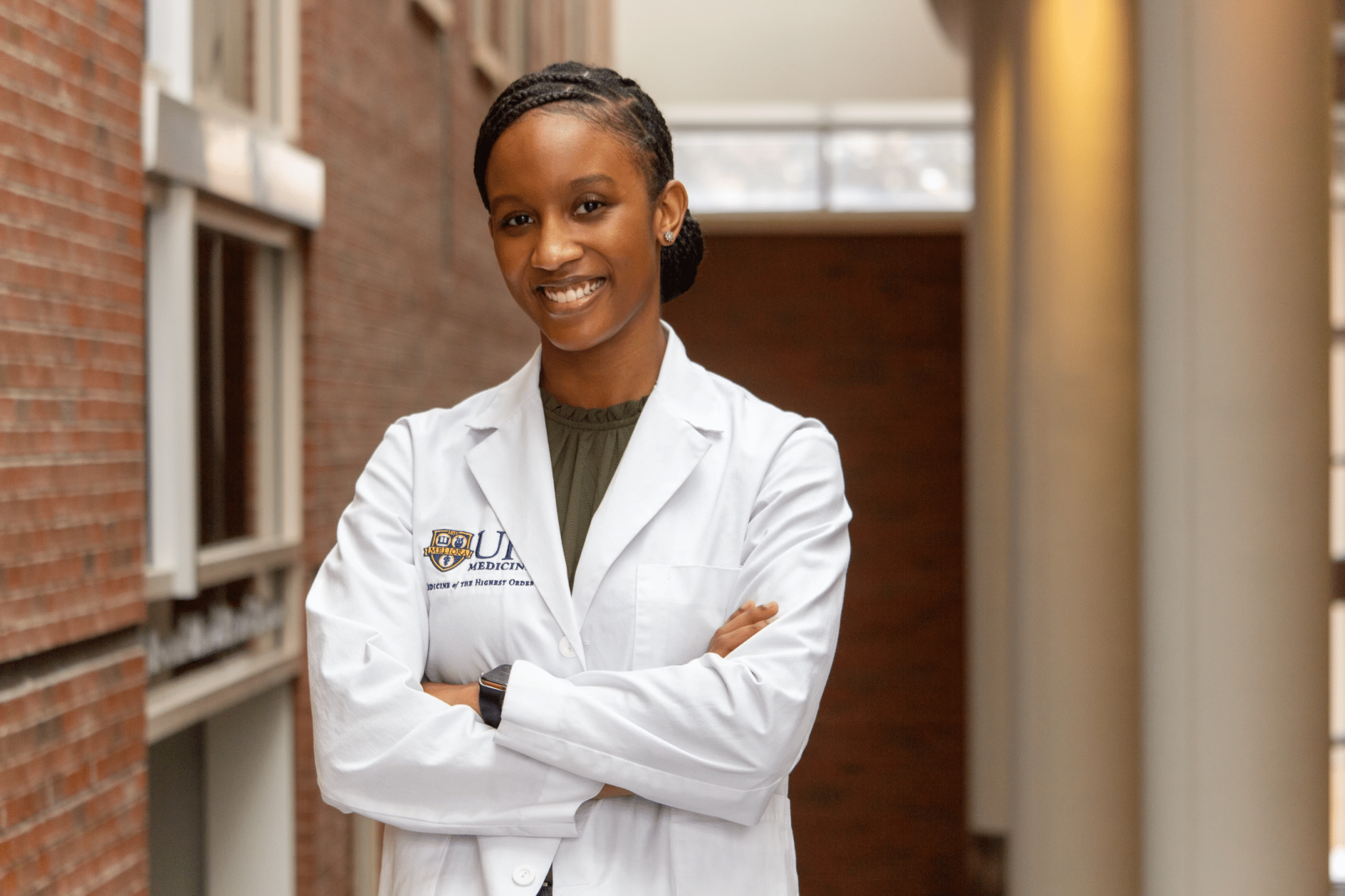 Dr. Ericka Scott shares why she believes mentorship is most important to moving the needle of diversity in medicine.
When Dr. Ericka Scott was 8 years old, her mother's determination to find her a Black pediatrician in St. Louis, Missouri changed the trajectory of her future.
"I'll never forget meeting Dr. Hancock," she said. "She was open-minded, had a loud and bubbly personality, and wore combat boots – and I thought, this is who a doctor can look and sound like?
Dr. Hancock encouraged Scott to pursue science and medicine in school, where Scott committed the rest of her time to leadership and community service.
Her dedication earned her National Medical Fellowships' 2022 Anarcha, Betsey, and Lucy Memorial Scholarship while she attended the University of Rochester School of Medicine and Dentistry, where she was also the president of the Student National Medical Association (SNMA) chapter and co-founder of the school's Black Caucus which helped form anti-racism action plans.
Scott also believes a single-payer health care system would not only get more people of color through the door for preventative health screenings and annual checkups, but also cut costs.
"We don't have enough primary care physicians because we go through the same number of years of schooling only to be paid a fraction of what specialists are," she said. "But if we as a nation put more effort and investment into preventative care, we wouldn't even make it to the point where people need more intensive care."
Scott therefore founded the minority student-run Belton's Health Center while in medical school to provide free preventative health services to underrepresented communities in Rochester.
"The clinic was created with the idea of 'for us, by us' care, with Black and brown medical students providing culturally competent care for people of color," she said. "We also tied faith and culture with medicine by partnering with a Black church and other community-based organizations in the city, which allowed us to utilize safe spaces to build trust and get our message out."
Scott is now three months into her residency in obstetrics and gynecology at the Emory School of Medicine in Atlanta, where she is the youngest in her program.
"The field pulls in so many different aspects of medicine, from pregnancy to surgery to primary care to mental health," Scott said.
Women's health in particular was an important space for Scott to be in, with both her maternal and paternal grandmothers – who had worked as maids for white families – suffered from breast cancer.
"My family and lineage guide me in my decisions on a daily basis," she said. "I am rooted and grounded in what I do because of them."
Scott said she particularly hopes to be a part of the solution to the Black maternal health crisis as a trusted Black female voice in the community.
Younger women who are pregnant and unsure, for example, have said they are more comfortable speaking with Dr. Scott versus other practitioners because they see aspects of themselves in her.
"And many elderly women are so amazed I exist in this space at all that they quickly become more comfortable," Scott added. "They're more willing to share sensitive information and discuss traumas they've experienced that have major impacts on their health."
That's why Scott believes the way to combat the dire statistics is to truly diversify the medical field.
"Often in maternal health we hear that a woman hadn't felt heard, or listened to, and didn't trust their provider to take care of them," she said. "And on the flip side, it's difficult for providers with different cultures and languages to effectively communicate with and relate to patients."
At the largest safety net hospital in Georgia, most of the patients Scott sees are Black or People of Color.
"I'm surprised with how many of them have said they'd only come back for follow-up appointments if they could see me," she said. "I wasn't expecting to encounter that mindset in a more diverse community."
That's why it's important to properly screen patients when they do visit the doctor, no matter the reason.
"We see some of the healthiest women at ages where they might never see a physician otherwise because they're pregnant, but we'll run as many tests as we can to cover their primary care gaps," Scott said. "And we learn that not only do they have high blood pressure, but it runs in their family and they have a higher risk of cardio metabolic disease.
"We need to get these patients through the door more often."
Scott said the key to increasing diversity in medicine is mentorship – a cause she feels very strongly about after receiving assistance from National Medical Fellowships.
"You cannot be what you cannot see."