The Opportunity to Dream Bigger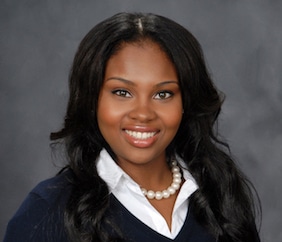 NMF Scholar Shanice Cox shares how mentorship and an NMF scholarship empowered her to succeed.
Shanice Cox, a first-generation Jamaican-American and third-year medical student at the Burnett School of Medicine at Texas Christian University, began her journey into medicine by transforming traumatic experiences into lighthearted comedy.
"I wanted to be able to comfort and reason with people that while the conversations we're having are difficult, we'll have an easier time finding the right courses of action if we can find whatever humor there may be in a situation together," she said.
It's a skill she unfortunately acquired in high school when her father suffered an acute schizophrenic episode that began the frustrating process of pinging between doctors, hospitals, and institutions.
"The stigmas of him requiring spiritual intervention, as well as law enforcement assuming his symptoms were drug-related, didn't help," Cox said. "There were too many days when I – his only child and advocate – was the only one who could make him smile."
Initially reserved, Cox said she sought a more personable way to speak honestly about what schizophrenia is, what it's meant for her and her family, and how it translates into interactions with others.
"I created a radio show at my high school in which I played the comedic role of a Jamaican grandmother, based on my own family's experiences," she said. "People would call in to discuss the stereotypes surrounding mental health issues in a more comfortable, familiar way."
Her show also helped change her father's life when it connected her with a local Caribbean psychiatrist who incorporated culture, family, and faith into his treatments.
"For the first time, my father felt seen – and I saw a physician help his patient laugh, cry, and express everything he'd been dealing with for years," she recalled.
"As my father opened up about his illness, he inspired other men to seek therapy, too – and I saw how the presence of one physician could change an entire community over time."
Cox sought to do the same. "Medicine incorporates everything that people come to others for in their most vulnerable states, looking for trust."
While earning advanced degrees in theology and medical sciences from the University of Notre Dame and Hampton University, she also explored advocacy work in her underserved community in South Florida, speaking with teenagers and caregivers about HIV prevention.
"Again, I needed to use comedy to connect," she said. "It was important to keep the subject interesting while also being educational."
Then Cox faced a roadblock: how could she continue on her path without the financial means to apply or travel to medical schools?
"I didn't have mentors who could help me figure it out, so I reached out to a blogger I followed on Instagram," she said.
Dr. Anya Bazzell, creator of the blog "Surgery and the City" and alumna of National Medical Fellowships (NMF), connected Cox with the organization.
"NMF never turned me away like other scholarship programs did," Cox recalled. "In fact, NMF gave me the chance to explore opportunities in health care I didn't even know were possible."
NMF awarded Cox the Association of American Medical Colleges/Darrell G. Kirch MD Scholarship to help her pursue her interests and education in medicine.
Never one to back away from the uncomfortable, she leaned into it by first exploring obstetrics and gynecology: "Physical exams are extremely intimate, and I felt my ability to make people more comfortable with comedy would help quiet any fears or awkwardness."
Then, Cox met a group of urologists who shared her unique sense of humor: "It was one of the few specialties in which I met a ton of comedic, multifaceted personalities that were better able to lift patients' spirits.
"If I can provide people room to open up, or consider new options, that helps me serve them better and create real change. A joke may be the single reason why someone finally decides to receive a life-saving treatment or vaccine that day."
Cox is currently conducting clinical research in urology before finishing her final year of medical school.
She said NMF's generosity – as well as its networking, professional development, and mentorship opportunities – have been critical to her continued success.
"They've given me the freedom and the opportunity to dream bigger."