The Challenge of Advancing Public Health in America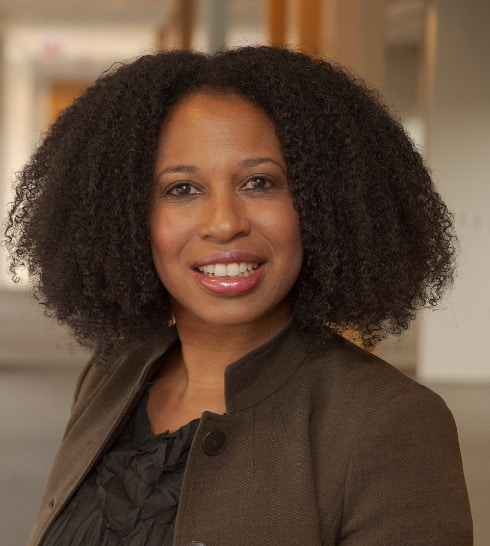 National Medical Fellowships' (NMF) alumna Dr. Aletha Maybank believes the "renaissance" of public health is a double-edged sword.
"Attention is being paid to the issue now since COVID-19 and the public murder of George Floyd, with people at least talking openly about racism and its link to inequities," she said. "But the reality is, we're still the country that spends the most [on health care] and has the worst health outcomes—do we care enough as a country to change that?"
Currently the inaugural Chief Health Equity Officer and Senior Vice President at the American Medical Association (AMA), Dr. Maybank has spent her 20+ year career analyzing and discussing the broader issues of public health— including health equity, organizational change management, and advocacy— to advance racial justice.
Though she earned her undergraduate degree in natural science and public health from Johns Hopkins University, attended the Lewis Katz School of Medicine at Temple University, completed a residency in pediatrics, and worked as a hospitalist, physician, and clinical instructor in New York City, Maybank
said it took earning her master's degree in public health from Columbia University while completing a preventive medicine residency to gear her more toward the holistic field of governmental public health.
"I was very disenfranchised by medicine in general," she said. "I didn't like the culture—very ethnocentric—and I didn't like getting told social work can't focus on the problems in patients or that I didn't have to worry about it."
While founding the Office of Minority Health in Suffolk County's Department of Health Services and serving as the deputy commissioner/founding director of the NYC Health Department's Center for Health Equity, Maybank said she was more freely able to focus on the root causes of health inequities.
Dr. Maybank frequently serves as a medical expert for media outlets such as NPR, MSNBC, EBONY Media, HuffPost, and ARISE News.
Under her leadership, the AMA and Association of American Medical Colleges (AAMC) created the "Advancing Health Equity: A Guide to Language, Narrative, and Concepts," a document to build transparency and trust between patients and health care professionals by better utilizing equity-focused and person-first language without reinforcing labels, objectification, stigmatization, and marginalization.
The guide also seeks to clarify how systemic and institutional racism results in poorer social, political, and economic determinants of health for minoritized communities; however, the document still became the subject of backlash.
"When you start to name injustice, you'll be met with organized resistance," Maybank said.
"Tensions are starting to boil over to the point of complete instability and chaos, with our country headed in a direction that, in many ways, we've already been.
"With increased, intentional tactics and strategies commonly associated with white supremacy, patriarchy, and colonialism having global impacts, there [have] to be big decisions made about how we'll move forward, with different people standing up in different ways.
The question is who will rise above? "The faith and the hope are, as Martin Luther King, Jr., said, 'the arc of the moral universe is long, but it bends toward justice.'"
Maybank admitted she is unsure of when the day of reckoning will come for this country or what it will look like, but we need more than "half the country to support human rights and treating people of all
skin colors and genders equally."
Though Maybank isn't surprised by the current American climate, she gets even more frustrated when people make commitments, including hires to advance equity work, and then draw back or avoid them entirely in response. "If we truly want to change things for the better, we have to march in solidarity," she said.
"We must look deeper into our common desires and beliefs that equity is foundational to our survival and growth as a nation.
"And, we have to create a more proximate society—statistics and facts don't work to change human minds and spirits— the chance to connect with another's humanity and way of life is critical." That's why Dr. Maybank is highly supportive of NMF's work to increase diversity in both medicine and clinical research.
She, too, believes salvation for America now lies in the hands of its youth.
"Generation Z, in their highly formative years, has experienced what protesting is since Ferguson and Black Lives Matter," Maybank said. "They and the generation after have a higher level of critical consciousness and awareness of the structures and systems in place that contribute to racism—and, because they are young, they're more likely to have the courage to speak their truth.
"Young people right now are our greatest hope as the leaders of the future."