Every year, National Medical Fellowships opens the doors of medical education for students of color and provides career-transforming opportunities that help to diversify clinical research.
Scholarship, Service-Learning, and Post-Graduate Awards
Service-Learning Program Participants
NMF Diversity in Clinical Trials Research Enrolled Emerging Investigators
New and enduring partnerships will help make health equity and justice possible.
National Medical Fellowships (NMF) is grateful for the extraordinary support and collaboration of its funders, donors, alumni, scholars, friends, and partner organizations who, together, are ushering in a more just and equitable future in health care.
Building upon the collaborative work done to prepare NMF's strategic framework, board and management completed an organizational assessment and restructuring to improve capacity to recruit top talent and leadership. Not only has NMF's team grown and deepened its skills and capacity, but also the NMF Board of Directors now includes global and national multi-sector industry leaders steering the organization. NMF also initiated a Global Advisory Council in 2022 to assist its international engagement.
In service of its scholars, NMF awarded more than $2.3 million in need-based, emergency, and merit scholarships (direct financial assistance not tied to other programs). The organization also seeded new service-learning programs, including the ALLIANT Health Solutions/NMF Research Program, the Food Allergy Research and Education Diversity Scholars Program, and the Health Equity Leaders Program. With investment from the Brave of Heart Fund, planning is underway for a Health Equity Institute to build research partnerships and develop infrastructure and systems to support research activities. NMF also has continued to grow its Diversity in Clinical Trials Research program, in partnership with Johnson & Johnson, Merck, and AstraZeneca.
2022 was a record-breaking year for philanthropy, ushered in by a $12 million gift from MacKenzie Scott. NMF also secured more than $1,035,000 in gifts at its 75th anniversary gala, the organization's first national event held in Miami, Florida in November. This amount constituted the most raised at any single event in NMF's history.
NMF likewise welcomed a rise in individual giving from returning and new donors. For example, Dr. Vick Williams and Dorothy Williams were new donors who established the Dorothy and Vick Williams Endowed Scholarship.
Communications and alumni engagement efforts were also robust, including the launching a new website, building an enhanced social media presence, revisioning and launching the Alumni Alliance with new leadership, offering new programming for alumni, and engaging in the national and global health justice discourses. NMF has been proudly covered by noted publications such as "Afrotech," "Essence," "Yahoo! Finance," "Becker's Hospital Review," and "Modern Healthcare." To further expand its voice and reach, NMF partnered with the International Black Women's Public Policy Institute to present a panel during the Congressional Black Caucus Annual Leadership Conference entitled "Saving Black Women from Racism in Medicine." As vocal ambassadors of the organization as well, NMF's Board Members also took took to the stage at the highly regarded The Root Cause Coalition's Annual National Summit on the Social Determinants of Health Conference as a featured closing plenary panel. Additionally, NMF served as a host committee member for the Africa-America Institute's gathering of global thought leaders and change makers in Accra, Ghana.
Looking forward, NMF has a hopeful future with an ambitious agenda and welcomes your continued partnership. To raise brand awareness and expand its reach, NMF has undertaken a comprehensive rebranding. The team will work to grow the scale and scope of organizational partnerships and diversify its funding portfolio. Moreover, NMF will engage in innovative thought leadership efforts to advance impactful policy. It will also revamp its scholarship and service-learning application processes by removing unnecessary structural barriers and expanding the use of technology to facilitate scholar onboarding and to create a deeper sense of community. Additionally, through collaboration, NMF will forge the pathway for future clinicians by reaching them earlier in their academic careers. NMF will also introduce more Emerging Investigators to Research and Development career pathways and enhance its educational resources and post-development training in clinical research.
NMF is grateful to its many partners committed to ensuring that the next generation of diverse health care leaders is ready to reimagine and rebuild health care, clinical research, and behavioral health. Together, we will ensure that the health care system serves everyone with dignity, equity, cultural humility, and the highest quality standards of culturally competent care. As always, NMF stands ready to explore new ways to partner to make transformational change.
Yours in health and justice,
Sandra B. Nichols, M.D.,
FAAFP, MHCDS, M.S.
Chair

Michellene Davis, Esq.
President & CEO
In 2022, National Medical Fellowships (NMF) took center stage in national health equity conferences, podcast interviews, and award recognitions. Thought leadership is a critical pillar of NMF's strategic framework, and the organization continues to expand its presence as a leader and convener of critical conversations around health justice, racism in medicine, diversifying the health care workforce, and more. What follows are but a few highlights from engagements during 2022.
NMF partnered with the International Black Women's Public Policy Institute to present a panel during the Congressional Black Caucus Annual Leadership Conference at the National Press Club in Washington, D.C. The event's theme was "The Intersection of Racism and Health in Black Women." The event was a forthright conversation featuring NMF President and CEO Michellene Davis, Esq., Black Lives Matter Global Network Foundation Board of Directors Chair Cicley Gay, and Princeton Perinatal Institute Founder and Medical Director Myriam Modestin-Sorrentino, M.D., F.A.C.O.G.
The Root Cause Coalition's Annual National Summit on the Social Determinants of Health Conference—themed "Achieving Health Equity: What Are You Prepared to Do?"— featured an NMF plenary session comprised of NMF board members. Davis moderated the panel that included NMF Board Chair Sandra B. Nichols, M.D., F.A.A.F.P., M.H.C.D.S., M.S., and board members Bryan J. Baugh, M.D.; Cedric Bright, M.D., F.A.C.P.; and Carmen Villar, M.S.W. Panelists discussed the urgent imperative to recruit, retain, and matriculate more physician leaders of health care.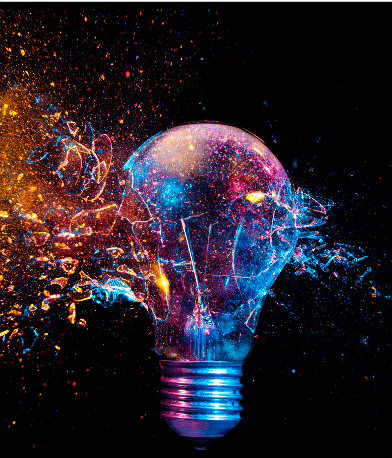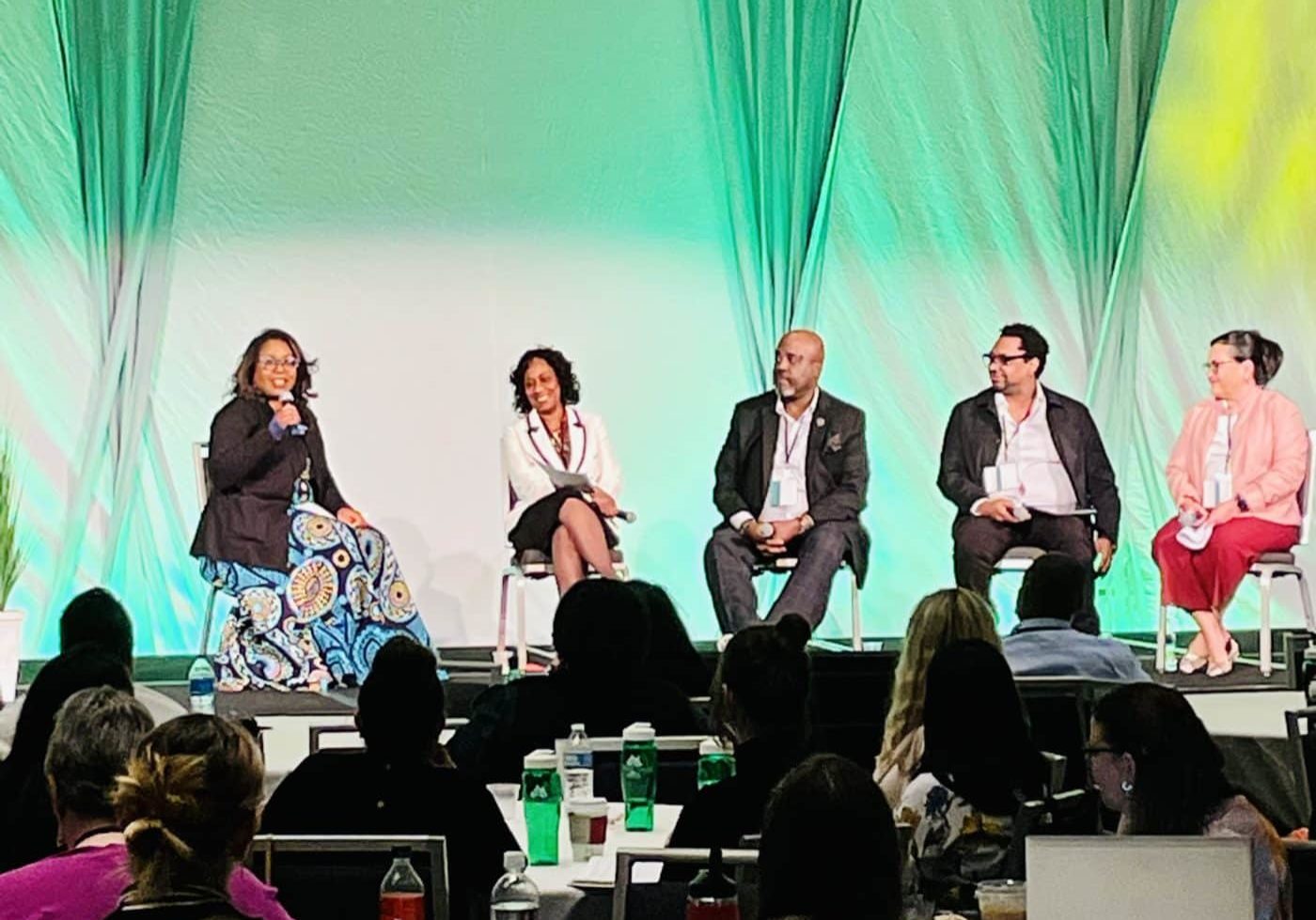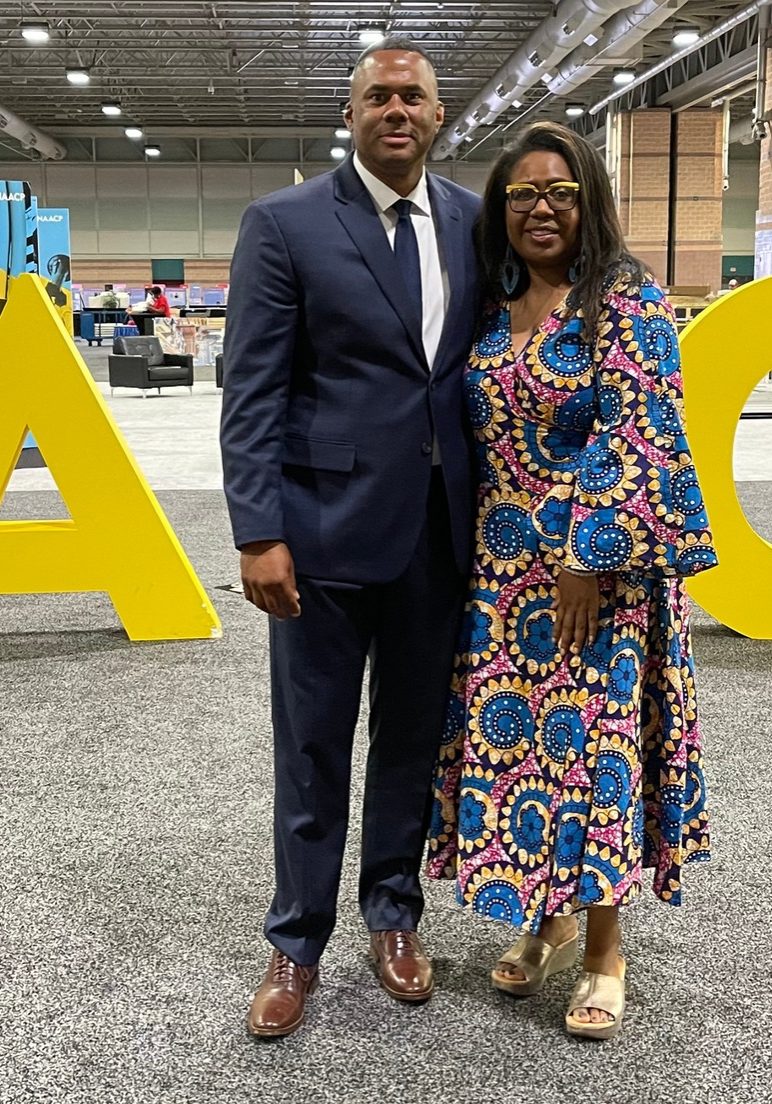 Davis was also frequently invited to speak before a wide variety of audiences, which proved to be excellent opportunities to raise awareness of NMF's work. 2022 speaking engagements included:
American Cancer Society Cancer Action Network
Albert Einstein College of Medicine
Association of American Medical Colleges
Health Equity Innovations Summit
Modern Healthcare ESG Summit
National Academies of Science, Engineering, and Medicine
National Association for the Advancement of Colored People National Convention
National Association of Women Lawyers
National Council for Mental Wellbeing
New York Federal Reserve
Student National Medical Association
Weill Cornell Medicine
Podcasts and webinars also were areas of communications growth in 2022. NMF Chair-Elect and Global Medical Affairs Leader, Infectious Diseases and Vaccines, Janssen Pharmaceutical Companies Bryan Baugh, M.D., and NMF President and CEO Michellene Davis, Esq. discussed the next generation of medical professionals, the challenges and opportunities for creating a diverse and inclusive pathway to medicine, and the benefits that come as a result for patients on Johnson and Johnson's "ID Viewpoints" podcast. Moreover, the podcast "Women Physicians Lead" with Dr. Lisa Herbert offered an NMF 75th anniversary series hosting the following NMF leaders:
Board and Global Advisory Council Member Kweku Awotwi, M.B.A., D.Sc.
NMF scholar Joel Bervell
President and CEO Michellene Davis, Esq.
NMF alumna Valerie Montgomery-Rice, M.D., F.A.C.O.G.
Alumni Alliance President Omondi Nyong'o, M.D.
Board Treasurer Efrain Talamantes, M.D., M.B.A., M.Sc., F.A.C.P.
Board Member Carmen Villar, M.S.W.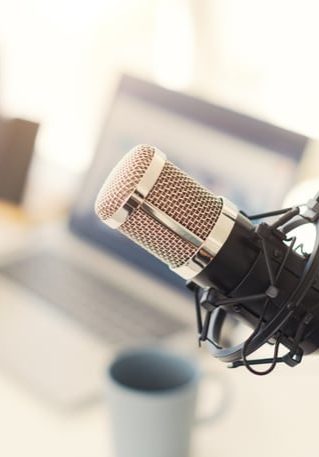 Numerous organizations also recognized NMF President and CEO Michellene Davis for her career dedication to health equity and social justice. Among other awards, she received the New Jersey Culture of Health Award and was recognized as one of Becker's Healthcare's "Top African Americans in Healthcare." Finally, as an extension of NMF's global focus, NMF served as a host committee member for the Africa-America Institute's gathering of thought leaders and world change makers in Accra, Ghana.
A collaborative approach engages a network of health care leaders.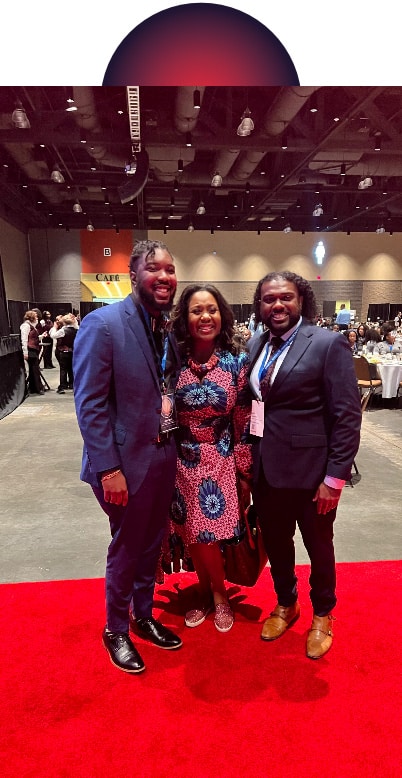 National Medical Fellowships (NMF) has been undertaking a thoughtful strategy to connect with and support all generations of its alumni. NMF has reconstituted its National Alumni Council as the NMF Alumni Alliance. The Alumni Alliance efforts are now aligned with NMF's strategic framework, Disrupting Racism in Medicine to Achieve Lasting Health Equity. NMF is delighted to have Omondi Nyong'o, M.D., serve as its president; Pamela Payne- Foster, M.D., M.P.H., as vice-president; and Stacey Gambrell Hunt, M.D., F.A.A.D., as secretary. The Young Leadership Council continues to provide an opportunity for young alumni and current scholars to serve and is led by Tania Gennell, M.D., as president; Aerial Petty, D.O., as vice-president; Joel Burt-Miller (M.D./M.P.H. candidate) as secretary; and Caylon Pettis (M.D./M.P.H. candidate) as treasurer. These leaders also serve on an intergenerational advisory committee to the NMF Board of Directors to provide insight on alumni and emerging alumni initiatives and interests.
Alumni who are members of these two groups support and contribute to NMF's ambitious strategy to disrupt racism in medicine. Members serve as partners and ambassadors of the organization to ensure that NMF and its alumni are at the forefront of the conversation around advancing health equity.
As an element of the NMF's strategic pillar to expand its focus on behavioral health and wellbeing, NMF is standing up racial trauma supports for its alumni. In partnership with the Association of Black Psychologists (ABPsi), NMF provides a culturally grounded, rapid-response program of Sawubona Healing Circles to interrupt stress and trauma responses. Sawubona is Zulu for "I see you," "We see you," and the Sawubona Healing Circles are virtual and safe African- and African-descendent-centric spaces that draw upon culturally grounded wellness strategies for coping with anti-Black racial trauma/ stress and community violence. NMF piloted three Sawubona Healing Circles in 2022.
Although Sawubona Healing Circles were birthed with Africans and African descendants in mind, NMF is partnering with ABPsi to connect with other affinity-based psychological associations to offer similar circles to our Latine and People of Color alumni, to ensure NMF is inclusive of all the communities it serves.
NMF's strategic pillar to launch a robust mentorship network is furthered by The Journey Matters series. These programs are designed as a set of one-hour mentorship sessions of intimate and candid discussions to provide scholars and early-career alumni the opportunity to learn about a featured mentor's journey and ask relevant, necessary, and vulnerable questions to inform their own journeys in medicine. NMF alumni Chiemeka Onyima, M.D.; Pamela Payne-Foster, M.D., M.P.H.; Christian Hernandez, M.D.; Tania Gennell, M.D.; and Denise Powell, M.D., volunteered to lead these conversations.
Hope O'Brien, M.D., M.B.A., FAHS, FAAN, a board-certified neurologist and headache specialist practicing in Cincinnati, Ohio, connected with National Medical Fellowships over a common interest: increasing the number of clinicians underrepresented in medicine who serve as principal investigators. "No one talks about the...
Philanthropic investment fuels the careers of diverse students in health care.
$
Awarded in Scholarships
2022 was a banner year for the National Medical Fellowships (NMF) scholarships program and the scholars it serves. The organization embarked on a deliberate effort to increase the size and number of scholarships it offers. With an eye toward providing more critical financial support in 2022, the organization awarded a total of $2,353,268 to more than 300 scholars.
NMF's new partner, the National Board of Medical Examiners, will offer 10 scholarships of $10,000 each through NMF for the next three years. Established in 2022, scholarships will be open to students in all four years of medical school and will welcome applications from dual-degree students.
Moreover, NMF's longstanding partner United Health Foundation is launching a new program to provide 50 scholarships through NMF of $5,000 each for the next four years, commencing in 2022. United Health Foundation has been a valued partner, and NMF welcomes the opportunity to design this new phase of their investment in health equity.
Additionally, the NMF Emergency Scholarship Fund provided $61,768 to 14 scholars. This fund serves to provide financial support to second-, third-, or fourth-year underrepresented medical students who, given the racial wealth gap in the United States, may experience financial crises that prevent them from continuing their medical education or that create major obstacles to achieving their medical education goals. The Emergency Scholarship Fund is designed to address instances when "life happens" to students given historical disinvestment and wealth inequality.
NMF seeks to offer more value to its scholars than simply needed financial support. NMF also offers a strong, supportive community of scholars, alumni, and partners. NMF additionally aims to further enhance the academic and professional experience for scholars and is in the preliminary stages of establishing a formally structured mentorship program to connect scholars with NMF alumni for mentoring relationships.
Aseal Birir, a college footballer turned Harvard medical and business student, had neither an easy nor privileged path to follow. "I lived in a variety of diverse communities, moving around a lot through various socioeconomic situations," he said. "That certainly impacts how I...
Deborah Fadoju, the recipient of NMF's Sylvia B. Kelly Medical Scholarship for Health Equity in 2022-23, said the honor is as much a win for her community as it is for her. "Receiving this scholarship for work that is my breath and life...
Service-Learning Programs
Accelerated efforts meet community needs and enhance medical education.
Although the benefits of service-learning are well documented, and service is the core of the medical profession, many medical schools do not have formal programs. Service-learning programs provide invaluable training to emerging physicians committed to improving the health of communities of color that are harmed by lack of access to health care services. These communities are further burdened by social and political determinants of health that manifest as a lack of access to safe and affordable housing, low-pollutant environments, socioeconomic opportunity, quality education, nutritious food, public safety, and more.
National Medical Fellowships (NMF) continued to offer these well-established programs in 2022:
Participating AIM Scholars in 2022
Johnson & Johnson/NMF Alliance for Inclusion in Medicine
Johnson & Johnson/NMF Alliance for Inclusion in Medicine (AIM) is a three-year service-learning program designed to provide high-performing but underrepresented medical students with analytical skill sets that will prepare them to become future clinicians and research leaders. During 2022, 20 new scholars enrolled in the program, bringing the total number participating in the program to 40 scholars.
PCLP Participants since 2012
NMF Primary Care Leadership Program (PCLP)
PCLP has provided 697 future health care professionals with the opportunity to experience the challenges and rewards of primary care practice in community health centers around the country since it launched in 2012. In 2022, 63 scholars participated in the program that was generously supported by the GE Foundation, LA Care Foundation, Children's Hospital Los Angeles, California Health Care Foundation, AltaMed Health Services, RIZE MA, and Gilead.
Diverse Medical Scholars in 2022
United Health Foundation/NMF Diverse Medical Scholars Program
United Health Foundation/NMF Diverse Medical Scholars Program is designed to increase the number of qualified medical providers who have a commitment to improving access to quality health care in medically underserved communities. In 2022, the program served 56 scholars.
As NMF advanced its mission to provide ever more opportunities to scholars of health care, the organization launched two new service-learning programs in 2022:
With the generous support of the Brave of Heart Fund, the NMF Health Equity Leaders Program (HELP) provides opportunities for students underrepresented in health care, medicine, and allied health to explore health equity service, scholarship, leadership, and advocacy. Through self-led research projects, scholars work to examine and disrupt the systems and structures of historical racism that lead to health disparities that disproportionately impact communities of color. HELP provides $10,000 each to 30 scholars. As part of the program, scholars conduct a self-directed health equity research project over a 10-month period and identify a community-based organization where they can gain exposure and training in primary care, health equity research, service, leadership, and advocacy.
Food Allergy Research and Education (FARE) has partnered with NMF to develop the FARE Diversity Scholars Program. This program provides students from underrepresented backgrounds with opportunities to deeply engage in food allergy research to build the pathway for diverse physicians and researchers who are committed to investigating, evaluating, and addressing the socioeconomic factors that impact health care access for food allergy patients. The program offered $10,000 each to six scholars, with an option to renew once. Scholars complete 200 service hours over a 10-month program and work with an assigned FARE Clinical Network site or other partnering institution to participate in a research/data-analysis project related to food allergy prevention, management, or understanding barriers to accessing food allergy care and safe foods. This includes volunteering for at least 20 hours with a local community partner engaging in community access work in food allergies and receiving mentorship regarding food allergy research and career pathways.
Diversity in Clinical Research
Initiative trains diverse investigators to ensure clinical research delivers better outcomes for all.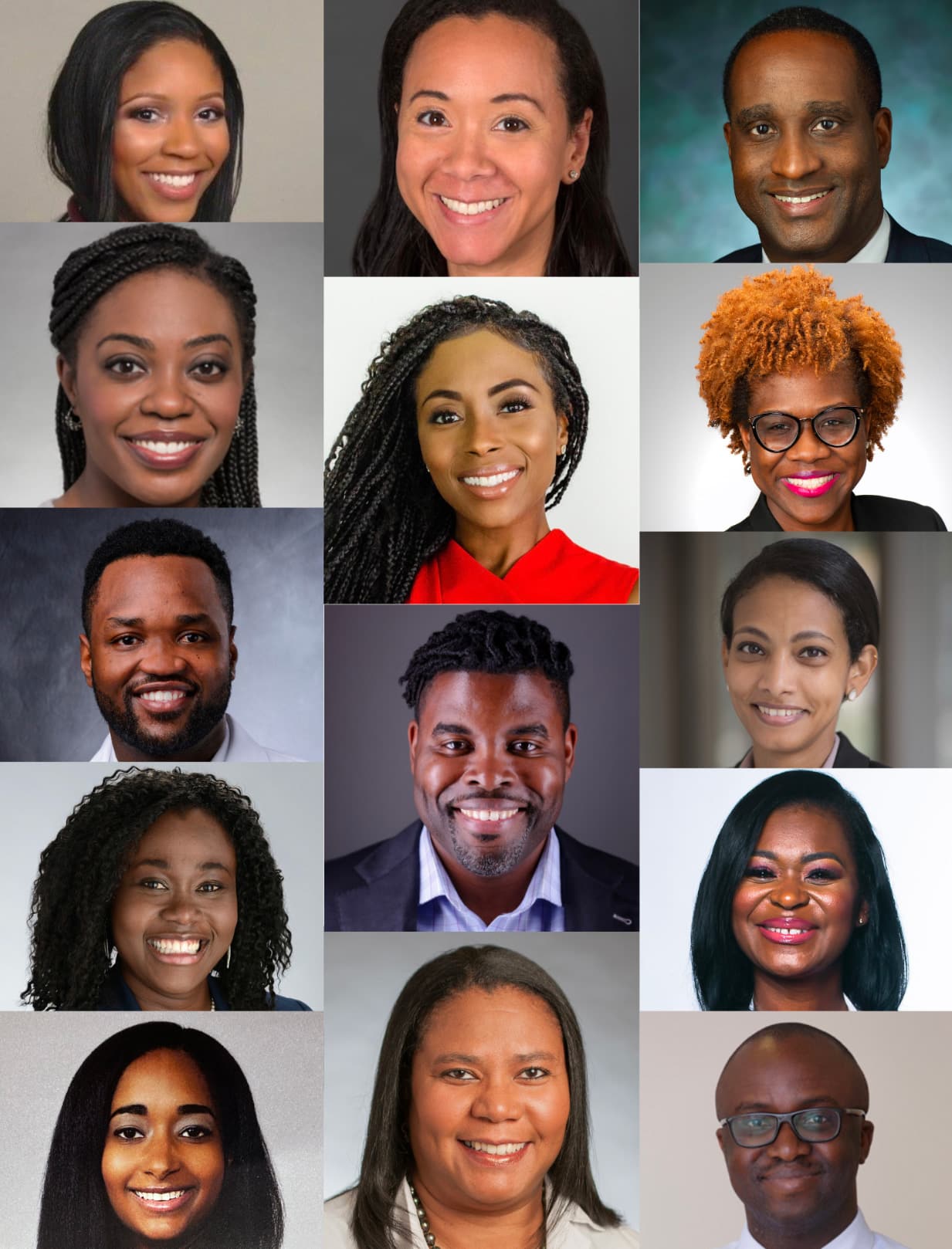 Medications and therapies do not affect all people the same way. Many factors are at play, including one's genes, gender, age, and weight, but clinical research has not done a good job enrolling diverse individuals to participate in clinical trials. People of color continue to be underrepresented in clinical research that evaluates safety and effectiveness of drugs, medical devices, and/or behavioral interventions in people. The problem stems from exclusion, lack of invitations to participate, and well-earned mistrust in health care. But this lack of inclusion is dangerous because it can lead to treatments that are less effective for people of color.
This is why the National Medical Fellowships Diversity in Clinical Trials Research (NMF Dctr) program is so urgently needed. It works to increase the number of clinicians of color who become principal investigators (PIs) as part of the strategy to increase patient diversity in clinical trials.
Originally a partnership between NMF and Johnson & Johnson, the program has garnered additional support from Merck and AstraZeneca and continues to seek new partners. The NMF Dctr program is a comprehensive program that features a robust curriculum to provide medical professionals with the knowledge, skills, and competencies to engage in and lead clinical research. The program has also expanded post-training support (including mentoring and networking) to bridge the gap between training and practice. After participating in NMF Dctr, emerging investigators (EIs) are equipped with the tools and support needed to participate in and lead clinical research teams.
In 2022, the NMF team completed quality assessments and a strategic realignment with partners for optimal collaboration. The program served 71 EIs enrolled in 2022 and a total of 97 EIs since the program's launch in 2021. The program also hosted an inaugural virtual post-training networking event for EIs that was well received and attended by 89 individuals.
A market analysis shed new light on specific therapeutics and clinical research experiences of NMF Dctr EIs. Among these EIs, 32% have previous clinical research experience. Results show that primary care is the dominant therapeutic area of clinical research, but all therapeutic areas evaluated have been of great interest to NMF Dctr EIs. Advancements in innovation and artificial intelligence continue to emphasize the importance of diversity in clinical research, and NMF is primed to offer a solution.
The program continues to enroll new cohorts at a brisk pace and looks to further refine program services in the months ahead.
Generosity accelerates an impactful mission.
National Medical Fellowships (NMF) enjoyed a record-breaking year in 2022, thanks to several acts of generosity, foremost of which was a $12 million gift from philanthropist MacKenzie Scott—the single largest gift in the organization's 76-year history. The gift was particularly timely as the COVID-19 pandemic took a disproportionate toll on communities of color and laid bare the human cost of health inequity. NMF is deeply grateful that MacKenzie Scott recognized the impactful work the organization has been doing for more than 75 years to advance health equity. With this gift, NMF received nearly $19 million in philanthropic support in 2022.
Philanthropic investment made it possible for NMF to launch three exciting new service-learning programs: ALLIANT Health Solutions/NMF Research Program, the Food Allergy Research and Education Diversity Scholars Program, and the Health Equity Leaders Program (made possible by the Brave of Heart Fund). These service-learning programs offer scholarship support and valuable opportunities for NMF's diverse scholars to gain clinical experience, conduct research, and prepare them to become future health care and research leaders.
The Brave of Heart Fund's generous grant has also seeded the NMF Health Equity Institute to build research partnerships and develop infrastructure and systems to support research activities, including, but not limited to, a health equity certification program for institutions.
United Health Foundation made a significant commitment to provide 50 scholarships in the amount of $5,000 each for the next four years, commencing in 2022. The foundation has been a longstanding partner, and NMF is grateful for its ongoing generosity.
NMF's first national event, Reimagining Health Care: Celebrating Equity Change Agents, honored people and organizations advancing health equity and diversity in health care and clinical research through their leadership and philanthropy. The event also raised more than $1,035,000 to advance NMF's mission, the largest amount NMF has raised from a single event.
During the gala, NMF celebrated dedicated supporters and esteemed partners as equity change agents:
Executive Vice President for Global Affairs Vanessa Broadhurst accepted the NMF Corporate Imagineer Award on behalf of Johnson & Johnson,
President and Chief Executive Officer of Morehouse School of Medicine Valerie Montgomery Rice, M.D., FACOG, accepted the NMF National Alumni Lifetime Achievement Award,
Vice President of Social Business Innovation Carmen Villar accepted the NMF Corporate Innovation Award on behalf of Merck, and
President & Chief Executive Officer of Children's Hospital Los Angeles Paul Viviano accepted the NMF Visionary Award.
The evening also included a surprise for NMF's Board Chair with the presentation to her of an inaugural namesake award, the NMF Dr. Sandra B. Nichols Vanguard Award. This is the organization's highest award and honors her determination to achieve health equity and her enduring passion for NMF's mission. The award recognizes individuals and organizations who have achieved outstanding distinction in their life's work in health care through their stalwart commitment to improving the health and lives of intentionally marginalized communities.
Surrounded by her family, Dr. Nichols shared how she suffered a massive myocardial infarction, incurred a severe burn injury, and technically died three times in 2019, but was blessed to receive a heart transplant donated by an amazing family. During her long recovery, Dr. Nichols continued to both guide NMF as Board Chair and even served as interim CEO for a time. This moment cemented the theme of gratitude that was present throughout the celebration.
Giving Tuesday, a global day of giving, is held each year on the Tuesday after the United States holiday of Thanksgiving. NMF raised a record $14,705 during the campaign, thanks in part to a partnership with Namesake, a skincare line specifically developed for the care of melanin-rich skin. National media attention in "Allure" magazine supported this achievement. Founded by Davlyn Mosley, the daughter of NMF alumna Dr. Lynn McKinley-Grant, Namesake donated 10% of its proceeds on Black Friday, the day after Thanksgiving, to NMF's Giving Tuesday campaign.
The generous support of NMF's alumni, corporate and foundation partners, and friends is deeply appreciated and makes it possible for NMF to build a more just and equitable future in health care.
For his decades-long work as a physician, entrepreneur, and trusted philanthropist, Dr. J. Mario Molina has been featured in "Time Magazine" and "Modern Healthcare" as one of the most influential people in health care. National Medical Fellowships (NMF) also recognizes him as an...
Intensive work raises brand awareness to engage new audiences.
National Medical Fellowships (NMF) began investing in communications in late 2021, and a multi-channel communications strategy bore fruit in 2022 across digital and print communications, mass media, social media, and storytelling.
NMF also launched its new website at nmfonline.org. The site includes a clean design aesthetic, enhanced functionality, specialized search tools to enhance users' ability to search for scholarships, and a nimble structure to elevate important news and moments to the homepage.
Published and distributed in May, Disrupting Racism in Medicine to Achieve Lasting Health Equity is NMF's strategic framework that communicates the organization's bold new agenda for transformational change. While ushering in a new visual identity for the organization, the framework document underpins the strategic planning and deployment of measurements of achievement at the programmatic level.
The year was an opportunity to undertake a sustained public relations effort that resulted in national media coverage by the following outlets: "Afrotech," "Essence," "Yahoo! Finance," "Becker's Hospital Review," and "Allure." Coverage resulted from wire releases about MacKenzie Scott's $12 million gift, the organization's national gala, and a social media partnership with Namesake Skincare.
With so many alumni and scholars doing exceptional work in health care, NMF took the opportunity to tell more of their stories. Alumni news, scholar profiles, service-learning program highlights, mentorship stories, news releases, and more can be found on NMF's website at nmfonline.org/news. Stories and announcements are also shared with follow- ers on social media. In addition, NMF published a commentary on the Dobbs decision to overturn Roe v. Wade.
NMF's social media presence and influence increased notably during 2022 as the organization invested time and resources into this channel. Although all platforms enjoyed growth, Instagram and LinkedIn grew especially quickly. The charts below show gains from January through December 2022.
Percentage Growth During 2022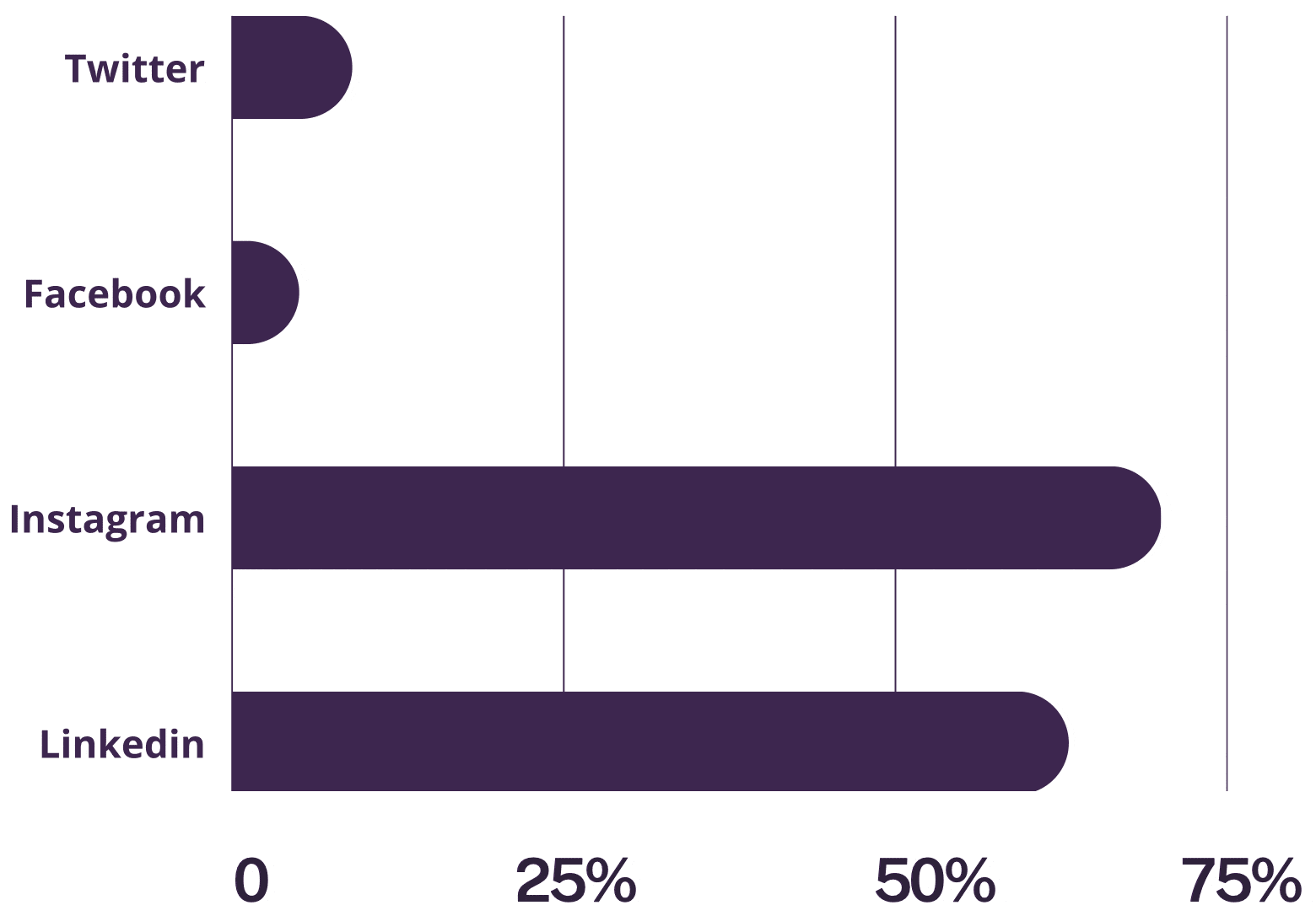 Net Follower Gain in 2022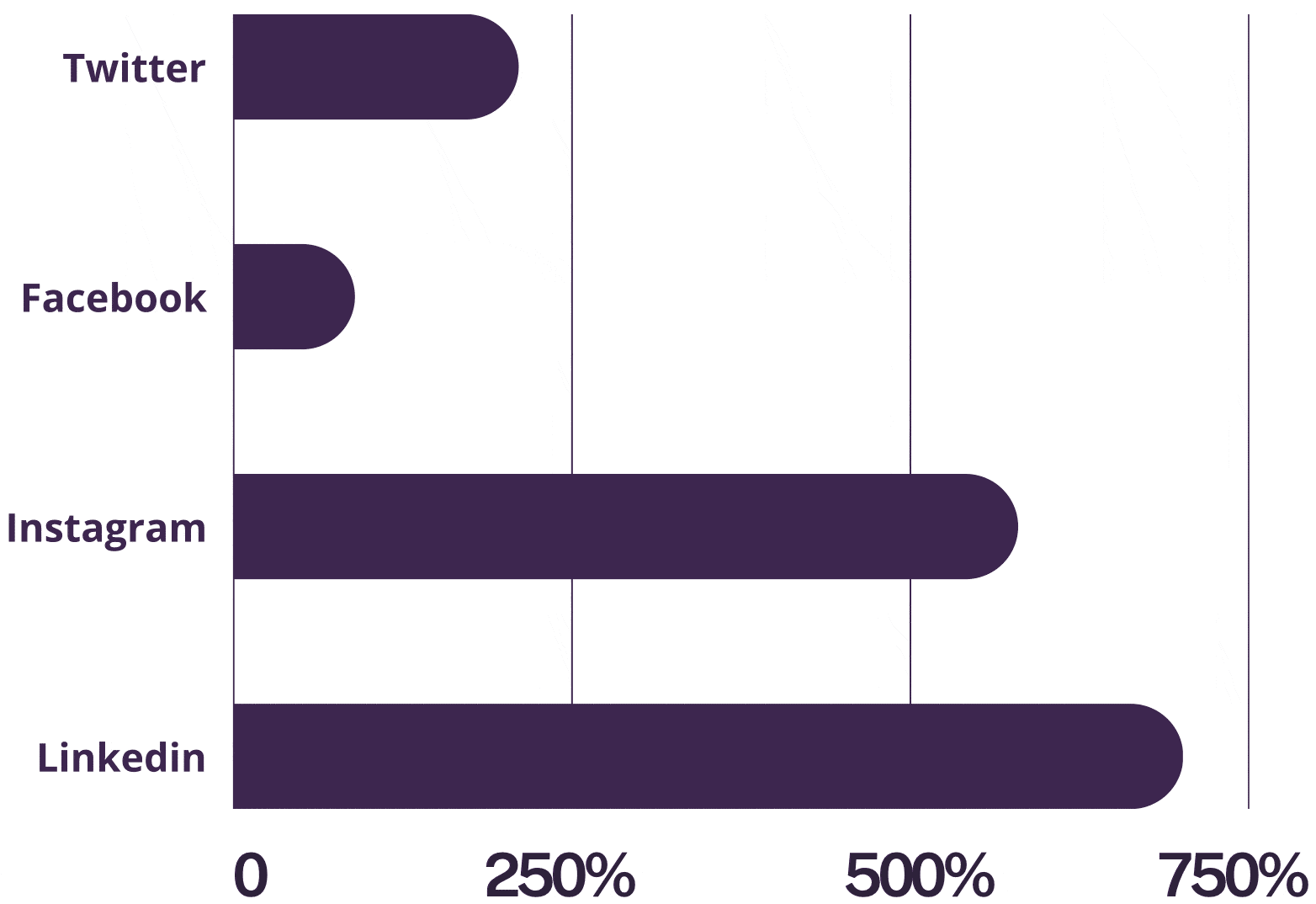 When we compared the same nine-month period (March through December) of 2021 and 2022, impressions rose a remarkable 723% on Instagram, 152% on Twitter, and 100% on Facebook. Further, the increasing volume of people who saw NMF's content on social media made it a leading channel for engaging the organization's audiences.
Social Media Impressions in 2022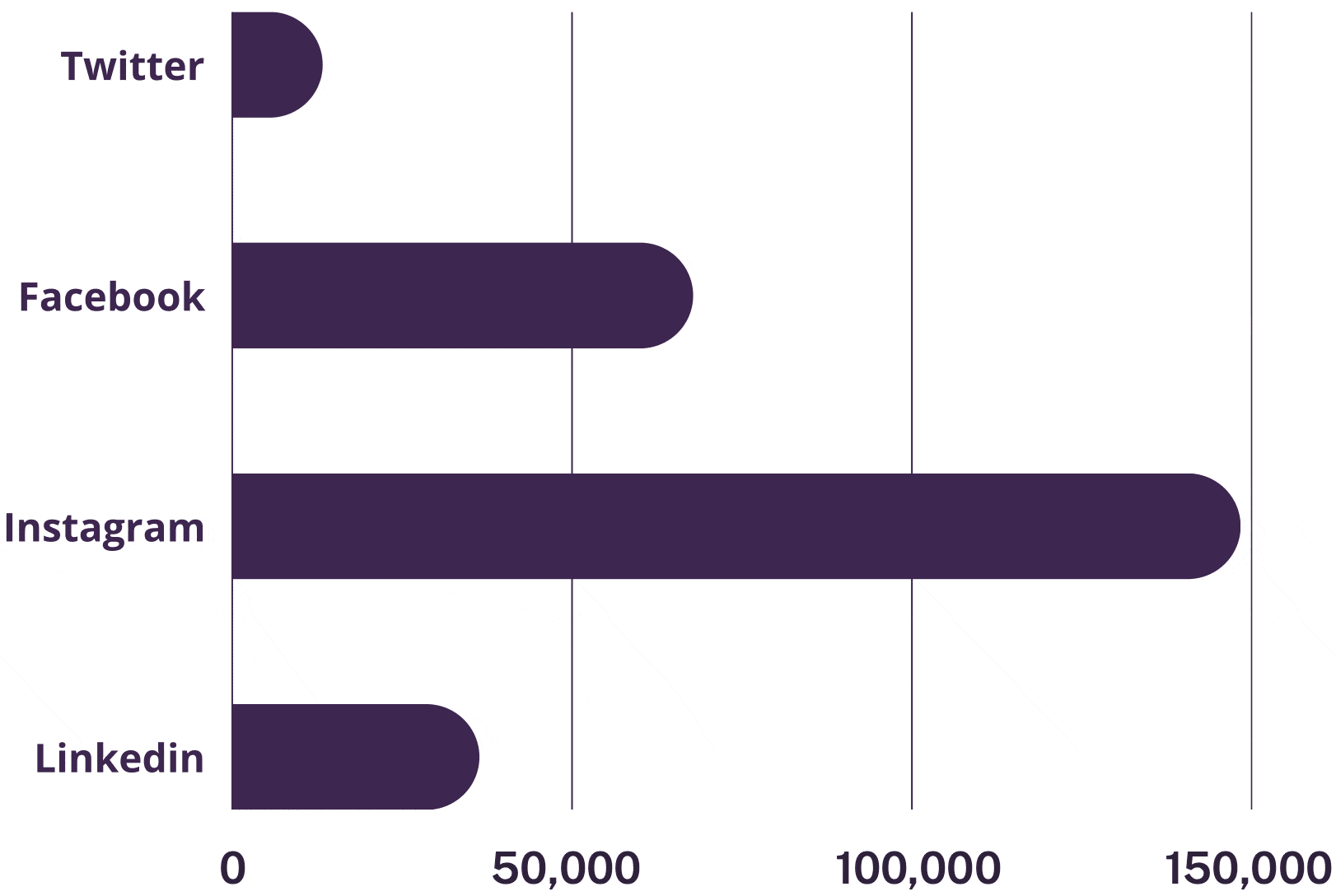 Generosity Fuels Progress Toward Health Equity
NMF is exceedingly grateful for the more than 500 donors that gave generously in 2022. With your support, NMF provided need- and merit-based scholarships, research and service-learning opportunities to medical and other health professions students and post-graduates. Your generosity also made possible thought leadership and other partnerships to advance health equity more broadly.
Thank you for standing together with NMF to champion health equity and justice in medicine.
e4e Relief
National Philanthropic Trust
Johnson & Johnson Family of Companies
United Health Foundation
Association of American Medical Colleges
Bristol-Myers Squibb Company
Children's Hospital Los Angeles Medical Group
FARE
Gilead Sciences, Inc.
L.A. Care Health Plan
Ms. Michellene Davis, Esq.
Mr. Ronnie A. and Dr. Sandra B. Nichols
Dr. Vick Williams
AltaMed Health Services Corporation
AstraZeneca Pharmaceuticals
California Healthcare Foundation
Genentech, Inc.
Icahn School of Medicine at Mount Sinai
Princeton Area Community Foundation
The Smidt Family Foundation Trust
CommonSpirit Health
Don Levin Trust
Dr. Felecia G. Williams
Kaiser Permanente
Kaiser Permanente Northern California
Mayo Clinic
Merck & Co., Inc.
Mount Sinai School of Medicine
NewYork-Presbyterian Hospital
Dr. Omondi Nyong'o
The Chicago Community Trust
The Josiah Macy, Jr. Foundation
The Tina and Calvin Tyler Foundation, Inc
University of California Davis
University of California Davis School of Medicine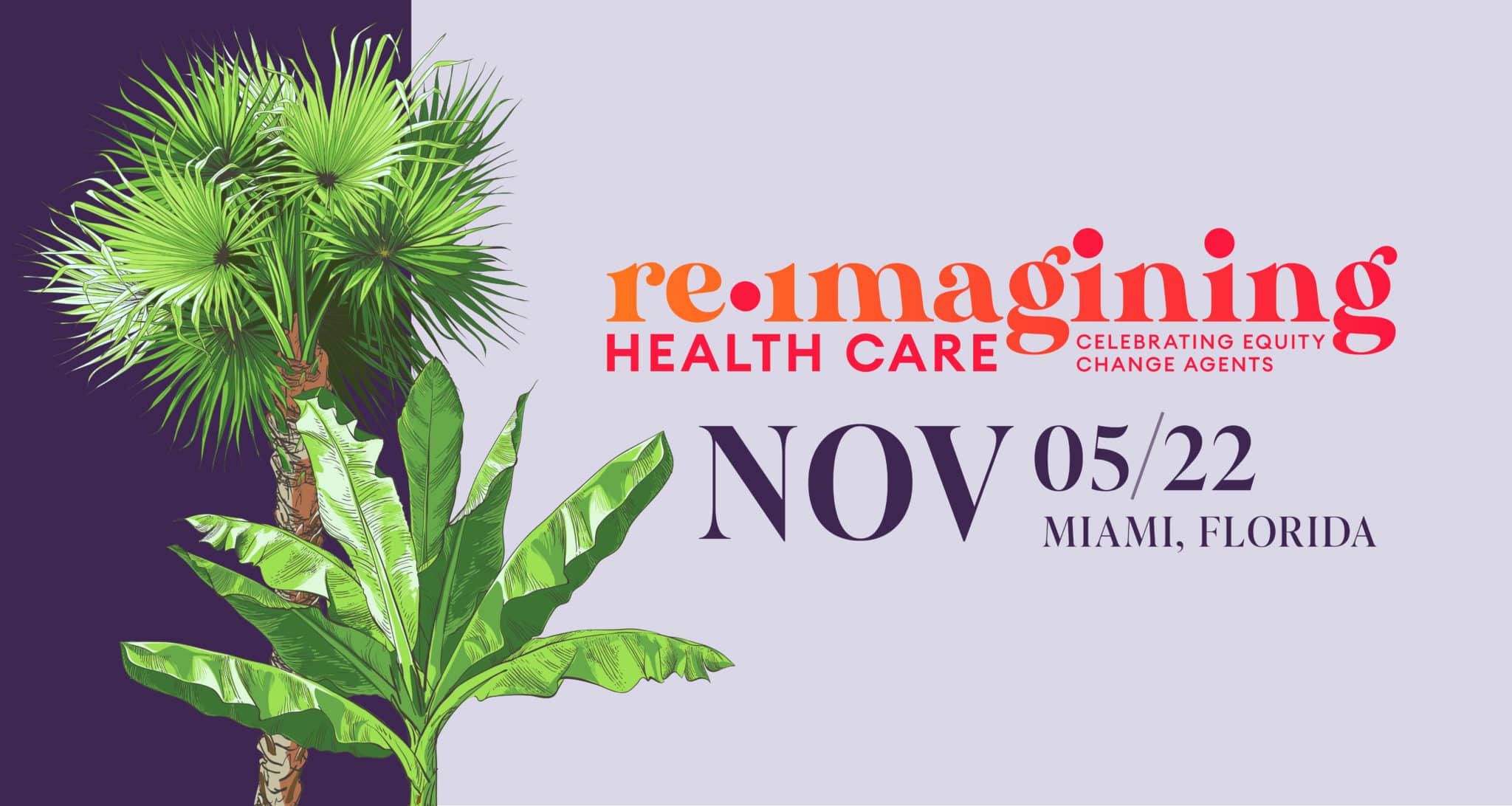 Alliant Health Solutions
Blue Shield of California
Drs. Ludlow and Ruth V. Creary
Ms. Anne E. Estabrook
David Geffen School of Medicine, UCLA
Dr. Elder Granger
Dr. Herman B. Gray, Jr.
Grifols
Kaiser Permanente Bernard J. Tyson School of Medicine
Keck Medical School of USC
Loeb Enterprises, LLC
Morgan Stanley Private Wealth Management
Ms. Jennifer M. Schlener-Thomas
PricewaterhouseCoopers
Dr. Reed V. Tuckson and Mrs. Marjorie M. Tuckson
Rush University Medical Center
Stanford University
SUNY Downstate College of Medicine
The American Medical Association
TPMG Physician Recruitment Services
University of Miami Miller School of Medicine
Dr. Calvin B. Wheeler
Wow Factor Marketing Group
Arkansas Medical, Dental & Pharmaceutical Association, Inc.
Dr. David Ansell
Dr. Charles Baker
Ms. Melissa Bradley
Charles R. Drew University of Medicine & Science
Columbia University
Dana-Farber Cancer Institute
Dryst, Incorporated
Ms. Lauren DeGeorge
Dr. Samuel Hawgood
Dr. Marc Keshishian
Dr. Eurgia C. Land
Ms. Dee C. Marshall
Dr. Emily D. Smith
Dr. Dennis J. Tanner
Dr. Efrain Talamantes
Ms. Evonne Taylor
Dr. Jan N. Roberts
Dr. John H. Vassall
Mr. Larry Quinlan
Lincoln Memorial University
NYU Langone Medical Center
Pasadena Community Foundation
PSEG
Dr. Ronnie D. Shade
Dr. Toussaint Smith
Dr. Robert M. White, Jr.
Dr. Dennis L. White
Ms. Margaret Wilson
Ms. Diedre Windsor
Dr. Nanaefua Afoh-Manin
Ms. Sylvia B. Allen
Dr. Laura G. Andima
Dr. Martha R. Andrews
Dr. Gloria E. Akan
Dr. Kathryn M. Anastos
Anthem Inc.
Dr. Corrie T. Anderson
Dr. Alfonso F. Banuelos
Ms. Linda Baraka
Dr. Bryan P. Baugh
Becker's Healthcare
Dr. Robert E. Bellamy
Dr. Ray A. Blackwell
Dr. Cedric M. Bright
Dr. Carol L. Brown
Dr. Claude D. Brunson
Dr. Steve I. Caddle
Dr. John M. Carethers
Dr. David M. Carlisle
Dr. Melody C. Carter
Dr. Maurice L. Chaplin
Dr. Blondell Chism
Mr. Gil Chu
Cocreative Consulting, LLC
Ms. Tumaini Coker
Dr. Brian A. Cole
Mr. Ulysses M. Currie
Dr. C.S. Cutter
Ms. Trisha Daly
Dr. Sandra C. Darden
Ms. Becky Davis
Dr. Cheryl A. Dickson
Mrs. Mary-Eliese Merrill
Empower the Village
Mrs. Dianne M. Engram
Dr. Jay M. Evans
Dr. Thomas L. Fisher
Dr. Jasmine Franklin
Ms. Camie Hackson
Ms. Zenola Harper
Dr. Cornelius L. Hopper
Included Health
Ms. Mary Gamba
Dr. Jorge A. Garza
Dr. Mirian M. Graddick-Weir
Mr. Robert Gray
Dr. Arthur A. Griffiths
Ms. Tonja Hampton
Dr. Arthur W. Kaemmer
Dr. Darrell G. Kirch
Ms. Brenda Knight
Ms. Deena Knight
Mr. Michael C. Laracy
Dr. Michael R. Lozano
Mr. Colin Lynch
Dr. Michael Malik
Dr. Elena Martinez
Dr. Yvonne A. Maldonado
Ms. Lisa Manshel
Dr. Manuel G. Marinas
Ms. Marianne Moore
Dr. Kameron L. Matthews
Dr. Robert T. Maupin
Mr. Alexander M. McKinney
Dr. Jose G. Montoya
Dr. Susan R. Morales
National Board of Medical Examiners
Mr. Nerou Cheng
Dr. Glenda F. Newell-Harris
New Jersey Performing Arts Center
Dr. John P. Nixon
Dr. Felix A. Olobatuyi
Mr. Troy Osinoff
Total revenues for 2022 were $17.9 million – exceeding the budgeted revenue by $7.7 million.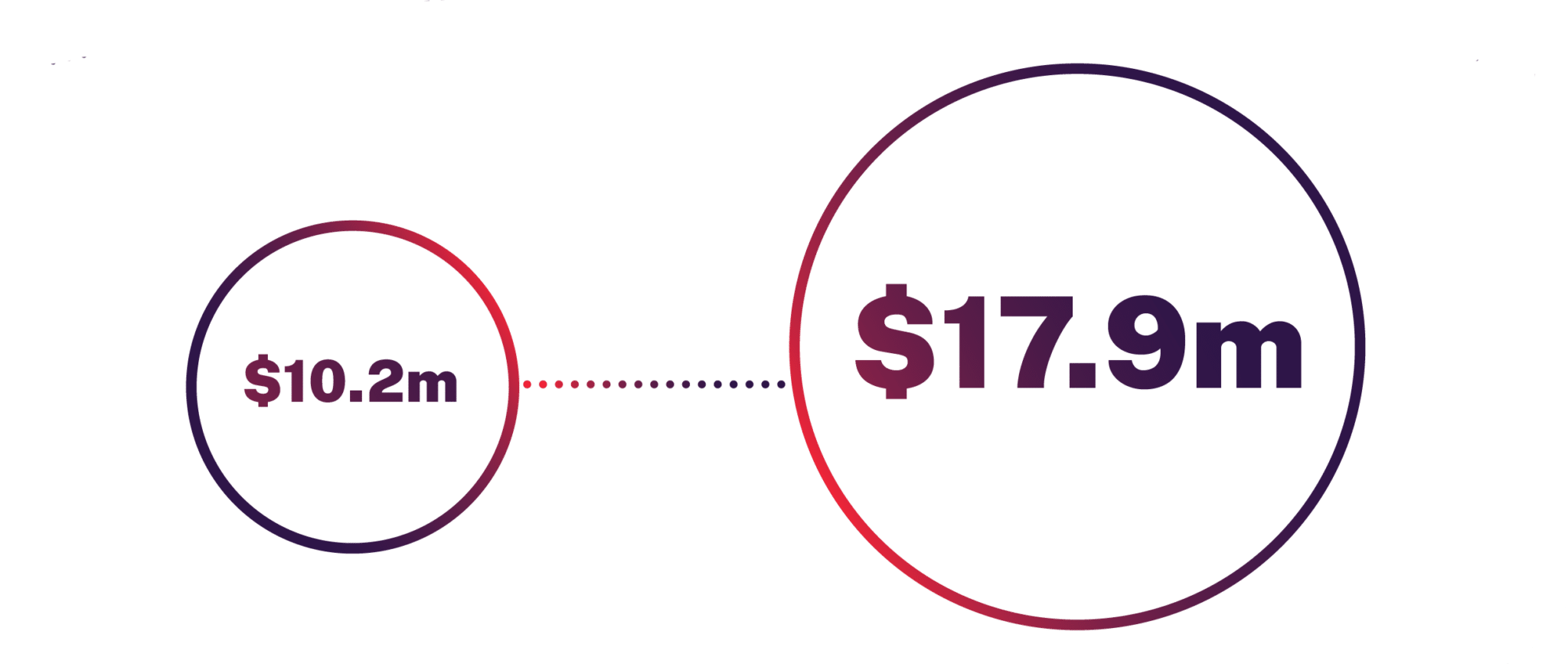 NMF boosted its growth in assets by $9.3 million to a total of $16.9 million. The 122% increase in assets observed in 2022 extends NMF's streak to five consecutive years of growth reporting total assets seven-times larger than 2018, when total assets were $2.3 million.
The increase in assets is mostly comprised of cash and cash equivalents and investments reporting balances of $9.5 million and $6.2 million, respectively. An additional element of the increase is related to the adoption of the new accounting guidance related to leases which added approximately $370,000 of right-of-use assets for office space to the statement of financial position. The effects of this increase are more noticeable when the balance of total liabilities remained consistent with the liabilities of 2021. The liquidation of deferred compensation plan liabilities and the use of best practices for cash and project management helped NMF leadership mitigate the addition of the right-of-use liability tied to the new guidance.
During the year ended December 31, 2022, NMF recorded the highest revenue in over 10 years. The increase in revenue was mainly due to increased support from foundations and efficiencies met in project management leading to higher realization of revenue from refundable advances during the year. In addition, contributions received for the national gala added about $1 million to revenues in 2022.
Total operating expenses increased $3.4 million or 77% in 2022 for a total of $7.8 million. This increase relates to increases in scholarships and stipends issued to scholars, mentors, and sites in the amount of $1.1 million, approximately $817,000 in salaries and fringe benefits, and increases in professional services by $1 million to ensure the continuity of operating activities during a restructuring of the organization. Nonetheless, total expenses in 2022 were $1.3 million under the budgeted amounts. These expenses served as an investment in the organization's foundation and infrastructure to sustain the growth expected in coming years.
The change in net assets for 2022 was $10.1 million. The composition of net assets also maintains a positive trend. Net assets without donor restrictions represented 80% of the total, increasing from 47% in 2021.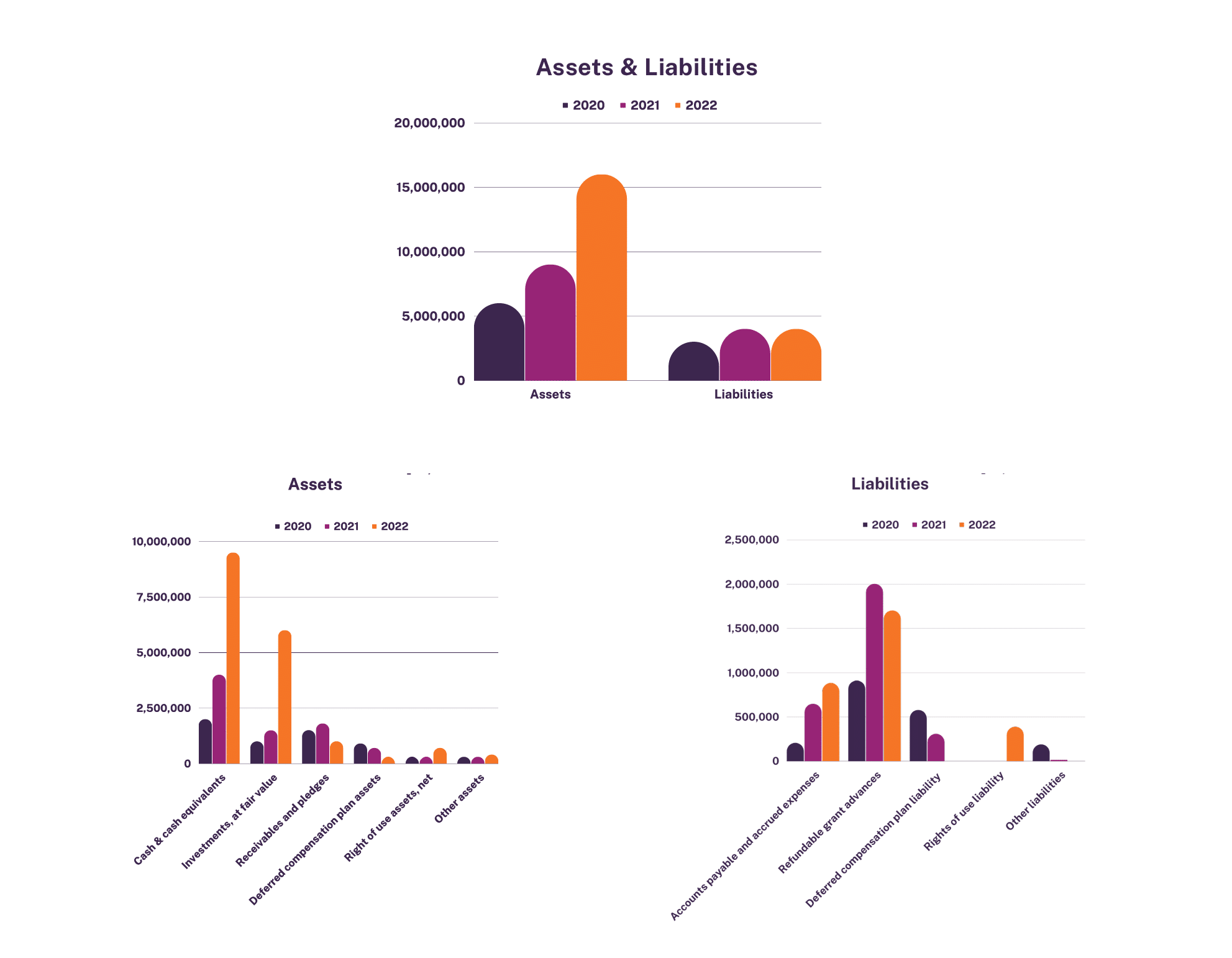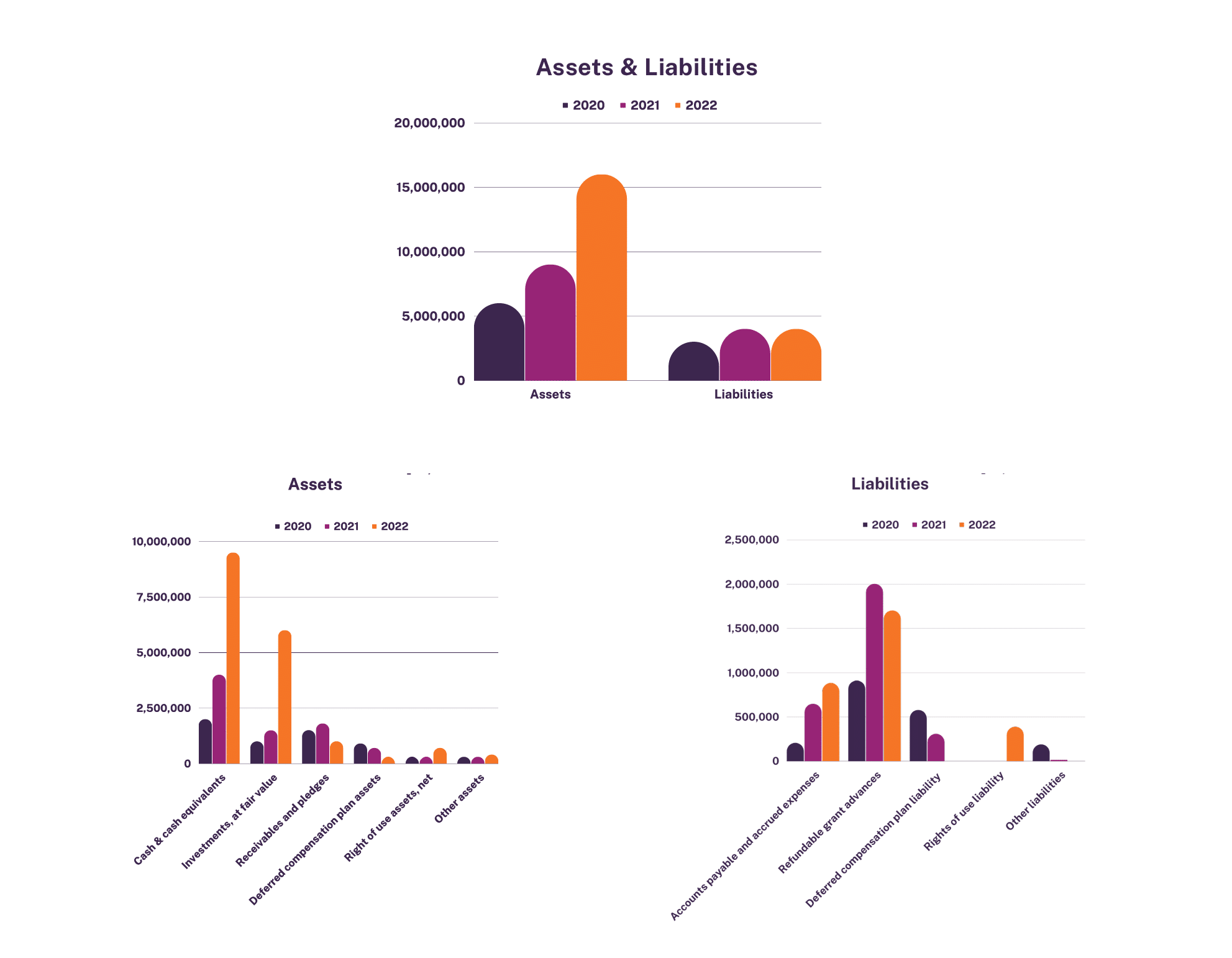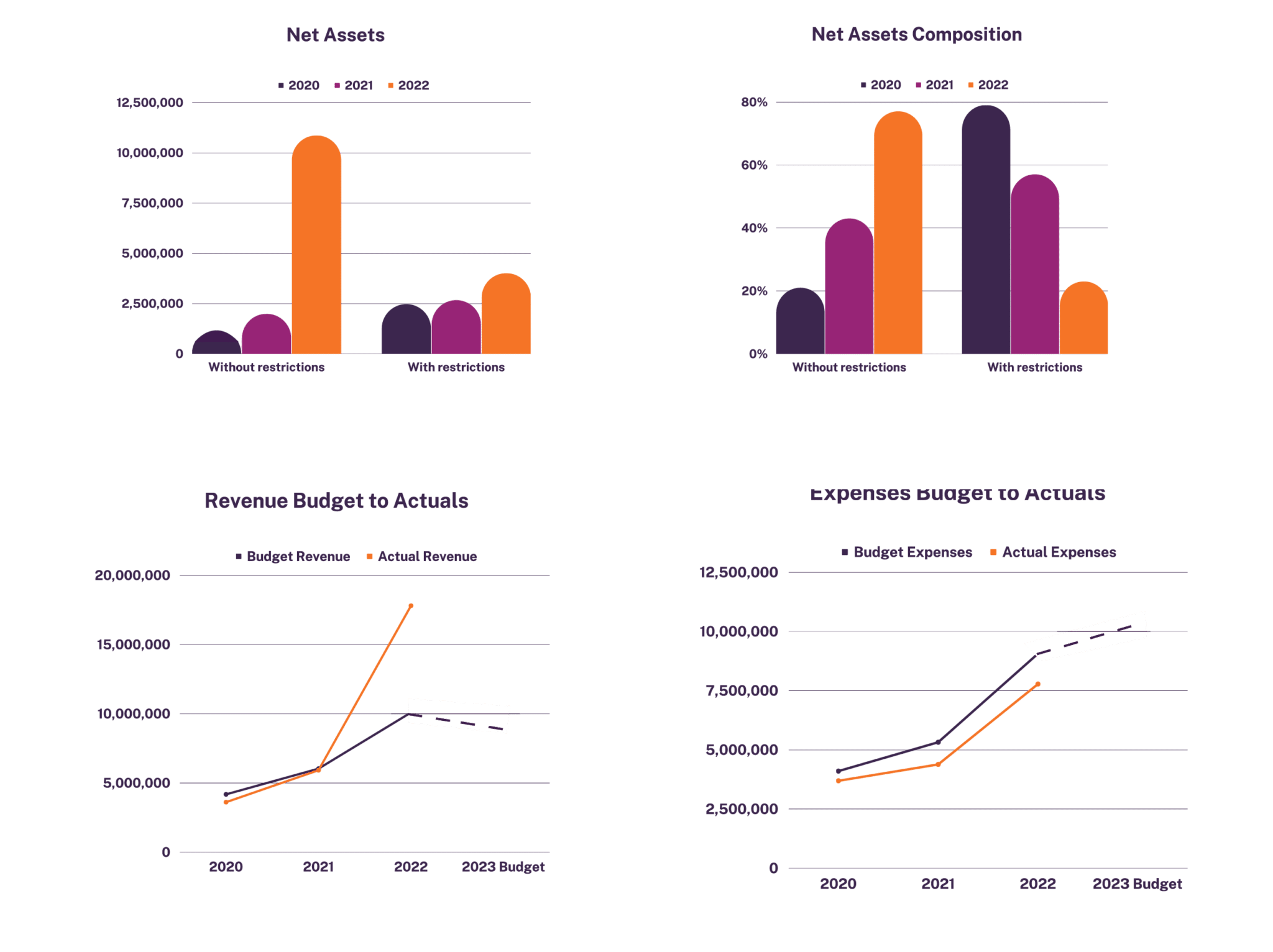 Statements of Financial Position as of December 31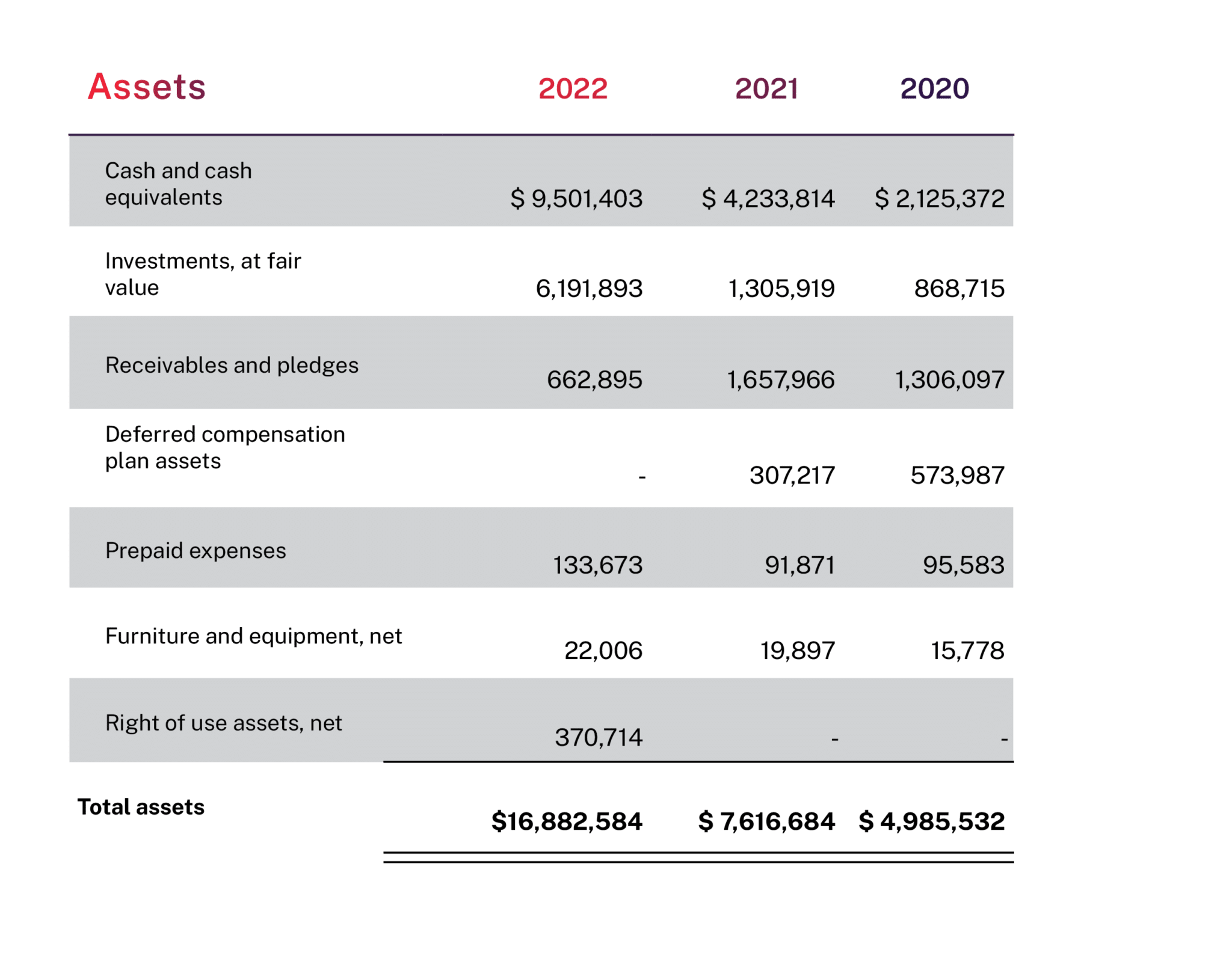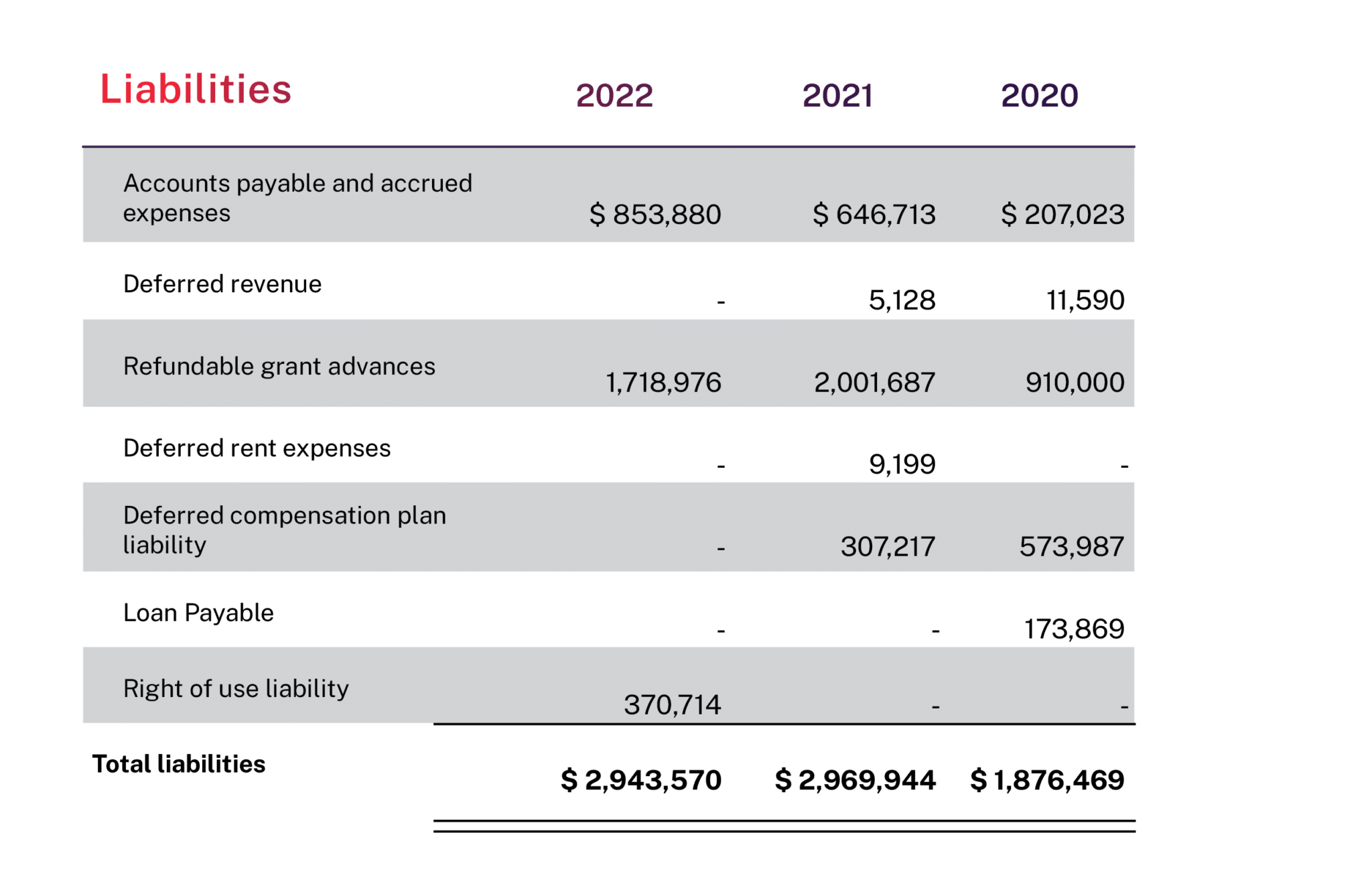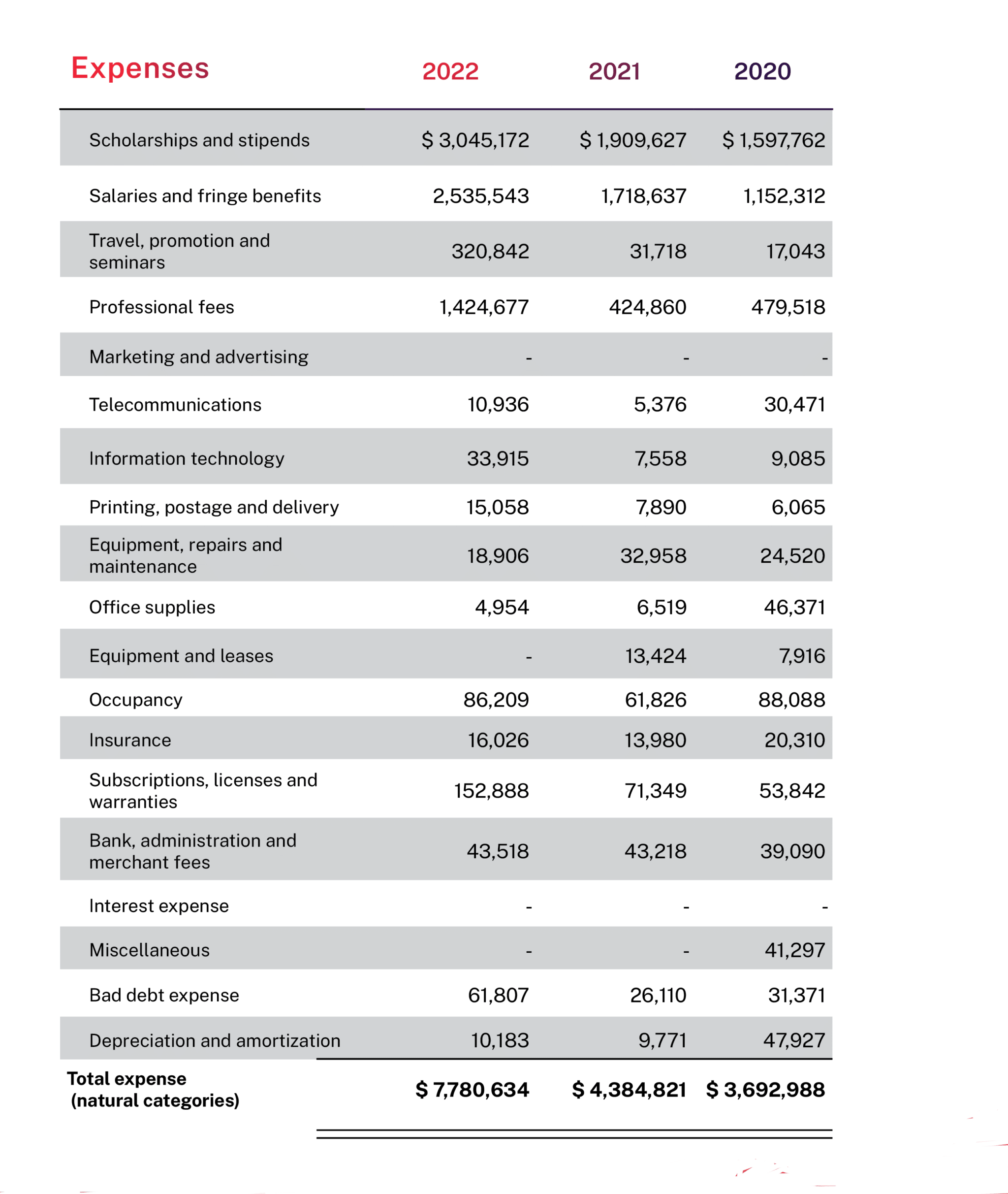 It is with deep appreciation that National Medical Fellowships (NMF) pays homage to these doctors and their extraordinary legacies through the continuance of their efforts to advance health equity.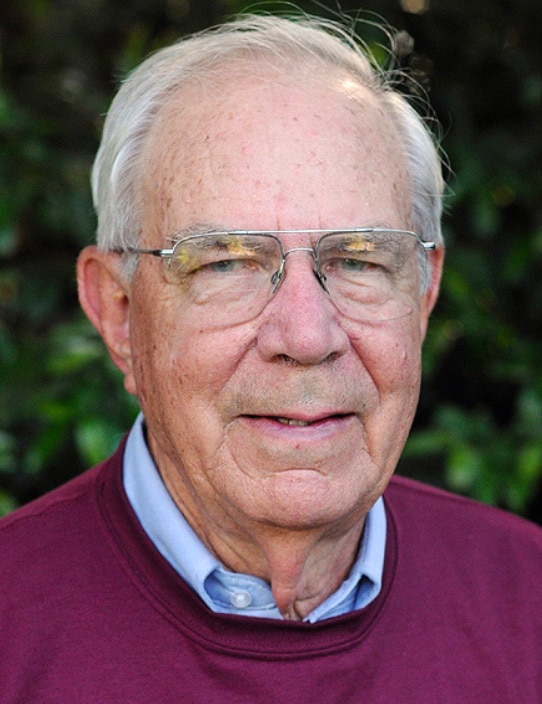 Serving with distinction on NMF's Board of Directors for more than 30 years, Dr. Robert "Bob" Tranquada was a deeply transformative champion of the organization's mission to provide scholarships to diverse medical students. His tremendous career in medicine, academics, and public health as a diabetes researcher, seasoned professor, policy advocate, and medical executive was crucial to increasing access to health care for underserved communities. A devoted philanthropist, Dr. Tranquada also served as a board chair, founding member, and trustee for multiple medical institutions and foundations, including what is now the National Academy of Medicine, the nation's largest publicly operated health plan and one of the country's first community health centers. NMF honored Dr. Tranquada with its Lifetime Achievement Award in 2005 for his steadfast commitment to achieving lasting health equity.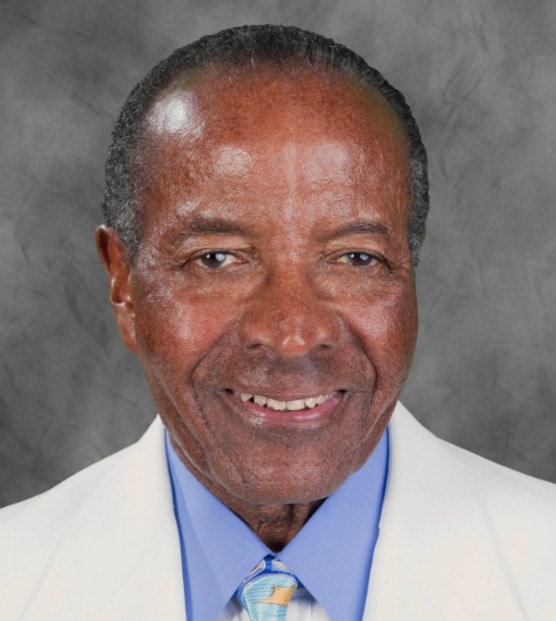 Dr. Frederick Douglass Parrott, Jr.
Avid philanthropist and mentor Dr. Frederick "Fred" Douglass Parrott, Jr., fostered the development of many medical professionals of color at NMF. Dr. Parrott served in the Medical Service Corps of the U.S. Army prior to his lengthy career in obstetrics and gynecology. He continued to create intentional community impact through numerous affiliations, including as a prolific member and sponsor of 100 Black Men of Los Angeles' Young Black Scholars program. In 1984, Dr. Parrott founded the Real Men Cook Foundation to raise more than $3 million for four Historically Black College and University (HBCU) medical schools. When he was diagnosed and treated for prostate cancer in 1994, he founded the Real Men Cook Foundation for the Early Detection of Prostate Cancer in African American Men to increase awareness and free preventative services for communities of color. NMF honored Dr. Parrott with its Legacy Award in 2020 for his passion and dedication to improving health disparities in under-resourced areas.
Sandra B. Nichols, M.D., FAAFP, MHCDS, M.S., Chair*
Bryan Baugh, M.D., Chair-Elect
Jennifer Schlener, Secretary
Efrain Talamantes, M.D., M.B.A., M.Sc., FACP, Treasurer*
Michellene Davis, Esq., President & CEO
Kweku Awotwi, M.B.A., D.Sc.
Cedric M. Bright, M.D., FACP*
Gary Butts, M.D.*
The Hon. Jon Corzine, M.B.A.
Anne Estabrook, M.B.A.
Aisha Glover, M.P.A.
Larry J. Harrison, M.P.H., M.B.A.
Pamela T. Miller, Esq.
Miguel Alexander Pozo, Esq.
Rakia Reynolds
Carmen Sachiko Villar, M.S.W.
Calvin Wheeler, M.D.*
*NMF alumni
Kweku Awotwi, M.B.A., D.Sc.
Lynda Decker, M.D.
Rosalind Kainyah, M.B.E.
Reynaldo Ortíz-Minaya, Ph.D.
Justice Yankson, M.D., M.B.A., Esq.

Office of the President and CEO
Michellene Davis, Esq.
President and CEO
Gizelle Clemens, M.P.A.
Alumni & Donor Engagement Director
Carlos Colón, C.P.A.
Controller and Finance Director
Kadeen Menzie, M.B.A.
Senior Executive Assistant
Brian Rahmer, Ph.D., M.S.
Senior Impact Policy Advisor/ Special Assistant to the CEO
Christy Law Blanchard, M.S.
Assistant Vice President, Strategic Communications
Adora Waldron, M.S.
Assistant Director of Digital Engagement
Gina Lee Gossett
Special Events & Development Manager
James Han
Database Manager
Alex Rios
Development Coordinator
Rosa De Los Santos
Operations Coordinator
Qunoot Almecci, M.S.,
Director
Service-Learning Programs and Scholarships
Laveina Dash,
Director
Diversity in Clinical Research
Keona Davis, M.A.
Senior Program Manager, Diversity in Clinical Research
Roman Meza
Program Assistant,
Diversity in Clinical Research
Antonia Molina
Program Manager, Scholarships & Awards
Tracey Newman, CDM, CCDM
Assistant Vice President, Global Programs and Diversity in Clinical Research
Ebony Panaccione
Program Manager,
Diversity in Clinical Research
Kori Richardson, M.P.P.A.
Senior Program Manager, Scholarship and Service-Learning Programs
Amber Riste
Program Assistant, Scholarships & Service-Learning Programs
Vanika Spencer, M.A.
Program Manager, Service-Learning Programs
Laura Uzzell, M.S.
Program Manager, Service-Learning Programs