Building Diversity in the Specialties
The David K. McDonogh, MD Scholarship in Ophthalmology/Otolaryngology Specialties is dedicated to building a diverse pipeline in ophthalmology and otolaryngology specialties. Applicants must be currently enrolled in an accredited medical school in the United States; be from a African American / Black, Afro-Latino(a), or Native American background; be committed to academic excellence, research, leadership and service; and have an interest in a career in ophthalmology/otolaryngology specialties.
NMF is grateful to all who gathered virtually on November 3, 2021 for a special lecture and reception.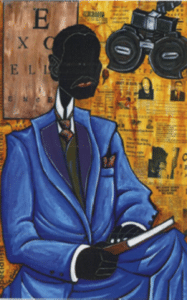 Tribute to David Kearny McDonogh, MD (1821-1893)
Served New York Eye and Ear Infirmary as a physician for 11 years.
America's first African American Eye/ENT specialist.
Born enslaved, graduated from Lafayette College
and from Columbia University Medical School.
Tribute commissioned and donated to
New York Eye and Ear Infirmary, August 13, 2020,
By Dr. Daniel and Marjorie LaRoche.
Artist: Leroy Campbell.
The Dr. David Kearny McDonogh Scholarship Fund
2021 New York Committee Members
Karen Allison, MD, MBA*
Ann Arthur-Andrew, MD*
Nneka O. Brooks, MD
Jacqueline Busingye, MD
Benjeil Z. Edghill, MD
Tamiesha Frempong, MD, MPH*
Chaneve Jeanniton, MD
Daniel Laroche, MD*
John Mitchell, MD*
2021 National Committee Members
Barry E. Breaux, MD*
David J. Brown, MD*
Jeremiah Brown Jr., MS, MD
Ninita Brown, MD
Joseph M. Coney, MD
Oswaldo A. Henriquez, MD
Troy Woodard, MD
2021 Academic Advisory Board
Michael Stewart, MD
*NMF Alumni