Resiliency & Advocacy: Becoming a Change-Maker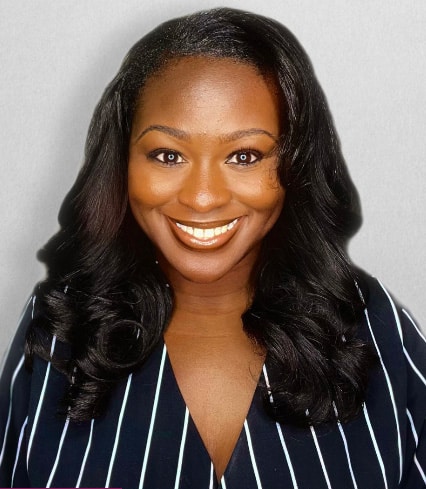 Deborah Fadoju, the recipient of NMF's Sylvia B. Kelly Medical Scholarship for Health Equity in 2022-23, said the honor is as much a win for her community as it is for her.
"Receiving this scholarship for work that is my breath and life has been incredibly affirming and energizing," said the fourth-year Ohio State University College of Medicine (OSUCOM) student.
Established in 2021 by the Association for Community Affiliated Plans, the $25,000 scholarship is awarded to a medical student who has demonstrated interest in promoting health equity through reducing the maternal mortality gap.
Fadoju has gone above and beyond in her commitment.
Growing up in west Baltimore, she experienced how systemically racist policies contribute to generational poverty and inequitable social determinants of health.
"Low-income students are consigned to high-poverty, low-quality schools," Fadoju said.
Fadoju worked hard to receive scholarships that would fund her undergraduate years at Howard University and summers abroad with medical clinics and leadership initiatives focused on providing health care, education, and infrastructure for populations in need.
"Howard poured into me an understanding that I'm truly capable of and responsible for being a change-maker wherever I go," she said.
After graduating magna cum laude, Fadoju served in AmeriCorps as a middle school teacher in Bridgeport, Connecticut, a low-income neighborhood with high crime and poor education.
"Any attempts to address my students' academic needs without first addressing their socio-emotional needs—safety and structure—would be futile," she said.
Fadoju therefore founded a step team to use dance to improve focus and, in the process, discovered a passion for helping empower vulnerable girls and women.
"I realized the field of obstetrics and gynecology would not only allow me to be an educator, but also would provide me the high acuity of being the calming voice in the midst of chaos," she said. As a medical student during the throes of the global COVID-19 pandemic, Fadoju also realized that advocacy was inherently built into the fabric of her selected specialty.
"I didn't want this newly created movement to become a moment," she said. "And while I had been expecting difficult discussions on the impact of race and racism in health care, especially in endocrinology and reproductive care, the curriculum did not address it."
Thus, while studying for her first board exam, Fadoju took it upon herself to co-create a lecture on the history of medical racism, its impact on present-day health disparities, and the importance of mitigating implicit biases. Her team's lecture now serves as a mandatory component of the first-year curriculum at OSUCOM.
Impressed with her dedication and fortitude, the leaders of the OSUCOM Equity and Anti-Racism Task Force asked her to join to provide formal requests and recommendations to the university on how recruitment, admissions, financial aid, and curricula could be changed to better support diverse students. As a result, new scholarships and formal mentorships were created, and the institution reexamined how it used or misused race across all lectures.
"It was a tough balance to give 100% to my academics while engaging in advocacy, but my intention had always been to leave a system better than I'd experienced it," Fadoju said.
Fadoju also founded OSUCOM's chapters of White Coats 4 Black Lives and Black Women in Medicine, served as president of OSUCOM's chapter of the Student National Medical Association, organized and led demonstrations with health care workers in solidarity with those affected by police brutality and systemic racism, and mobilized students to provide testimony for the Ohio Senate's Concurrent Resolution 14 to declare racism a public health crisis.
"Were it not for my support system of mentors, peers, family, and community, I couldn't have done it," she said. "I'm truly a product of the people who kept showing up to remind me the work I was doing was necessary.
"My goal now is to become an outspoken leader in medicine who advocates for collaborative academic, institutional, and legislative change to achieve equity in obstetrical and gynecological care."