Jack of All Trades, (Future) Master of Public Health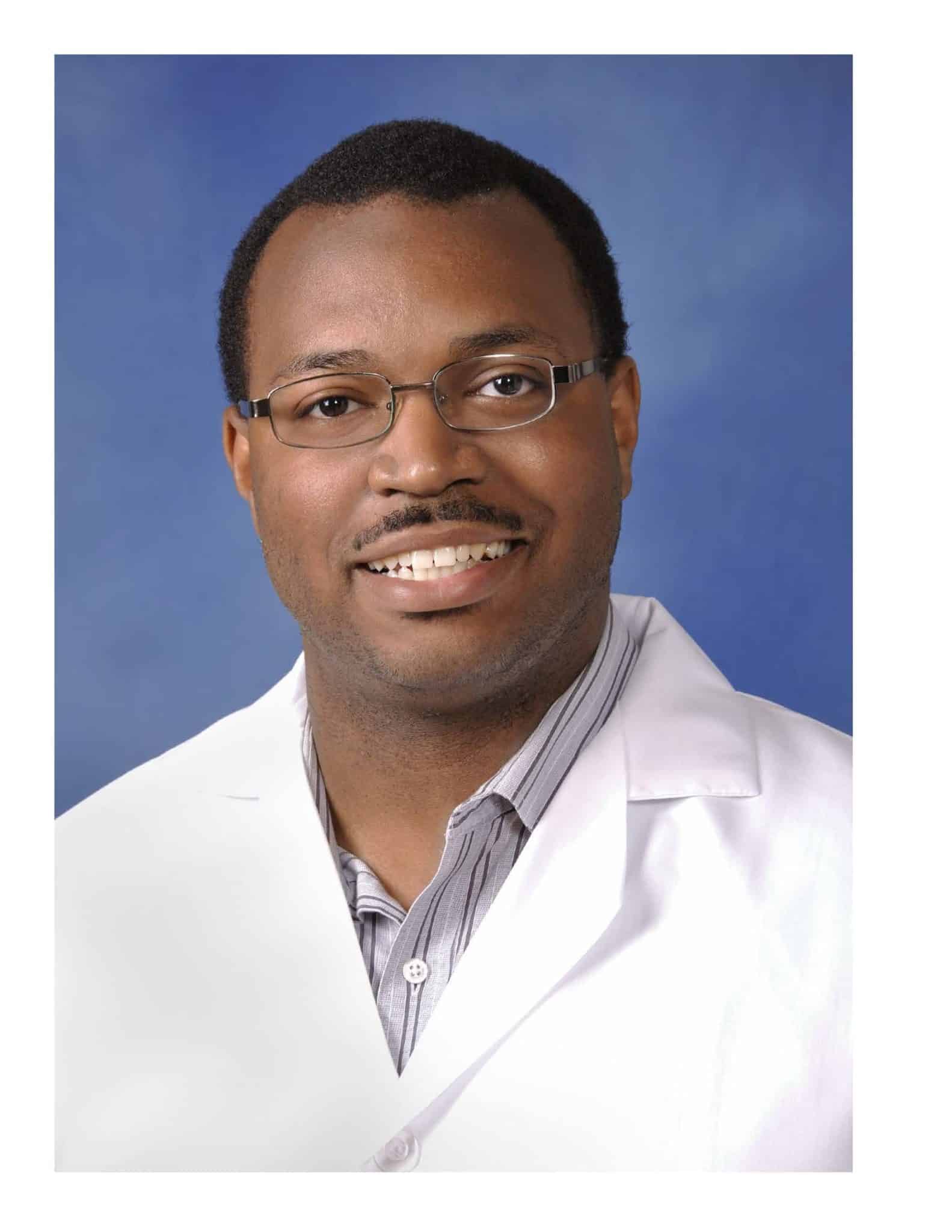 Dr. Britt Gayle describes how his passion for both medicine and public health led him to pursue clinical research training opportunities.
"As a Black physician and educator interested in the intersection of domestic and global health, I was drawn to clinical research and its ability to empower communities made marginal," he said.
"However, once I pursued greater opportunities as a research clinician, I realized I needed to better understand the behind-the-scenes processes required to turn a research question into an active, funded study."
Dr. Gayle therefore joined the first cohort of National Medical Fellowships' Diversity in Clinical Trials Research program, which is supported by Janssen: Pharmaceutical Companies of Johnson & Johnson, Merck, and AstraZeneca. He also continued to earn his Master in Public Health – an interest influenced by the interactions he and his family had with elements of the American health care system.
"Communities must be active in the design and conduct of studies. That should be the standardized expectation for all research – and that is my future aspiration."

– Dr. Britt Gayle
"My relatives repeatedly experienced racism when interacting with the health care system, from being born in a hallway because the hospital was reserving delivery rooms for white patients, to having their concerns minimized and dismissed as adults," he said. "I, too, experienced racism in medicine as a child, from staff making assumptions about my family's socioeconomic status and insurance, to practitioners making snide comments when they thought I was out of earshot."
Dr. Gayle studied biology and international studies at Morehouse College, with a minor in public health. Though unsure about pursuing a career in medicine due to his belief that the system was fundamentally prejudiced, his college advisor, Dr. Joseph McCray, convinced him he should.
"He said, 'If you were a physician, you'd not only be able to help individual patients, you would also be able to identify and address higher level issues driving community level outcomes,'" Dr. Gayle said.
Dr. Gayle therefore enrolled in a dual MD/MPH program at Emory University.
"My peers within the School of Public Health were much more diverse and community-oriented," Dr. Gayle said. "It was a breath of fresh air compared to my medical school experience, where most of my peers came from affluent backgrounds and discriminatory generalizations about patient populations were not uncommon."
Upon graduating, Dr. Gayle sought a Family Medicine residency program that would provide training to serve frequently marginalized, underserved communities worldwide. He joined UPMC McKeesport's program because of its global health track, which included nearly three months of international rotations.
His future mentor and colleague, Dr. Gordon Liu, also encouraged Dr. Gayle to further occupy the intersection of clinical medicine and public health by joining the program's HIV primary care track and becoming a specialist.
"Participating in the community's HIV planning group and strategizing how to combat the HIV epidemic in the Pittsburgh area served as my first experience being directly involved in larger-scale public health efforts," Dr. Gayle said. "The support I received also enabled me to design and submit a research protocol, analyze the data, and present my findings at a conference."
Upon completion of his residency, Dr. Gayle served as a faculty physician and Director of HIV Services at MedStar Franklin Square Family Medicine Residency Program in the greater Baltimore area.
He then joined a team at the University of Maryland's Institute of Human Virology that focused on community-based research examining the relationship between Opioid Use Disorder and HIV/Hepatitis C.
"One of the requirements for insurance coverage of treatment was sobriety for several months," Dr. Gayle said. "However, that resulted in people getting sicker while trying – so our team examined the effectiveness of providing treatment while people were receiving addiction care."
Dr. Gayle said joining a research team with stable funding and an enthusiastic mentor in Dr. Sarah Kattakuzhy was a huge advantage.
"Most clinicians do not have the opportunity to focus on research until they're awarded a grant – which is largely dependent on prior success," he said. "Finding a position that provides financial stability and a dedicated mentor willing to show you how to become a researcher is crucial, but it is also a huge barrier to diversity in the field."
Finally, Dr. Gayle's participation in NMF's Diversity in Clinical Trials Research program encouraged him to engage in discussions and pursue employment with the Henry Jackson Foundation, where he currently serves as a research physician within the U.S. Military HIV Research Program.  
Now, Dr. Gayle said more community engagement in clinical research is needed.
"Communities must be active in the design and conduct of studies," he said. "That should be the standardized expectation for all research – and that is my future aspiration."