Caring for One's Own Communities in Crisis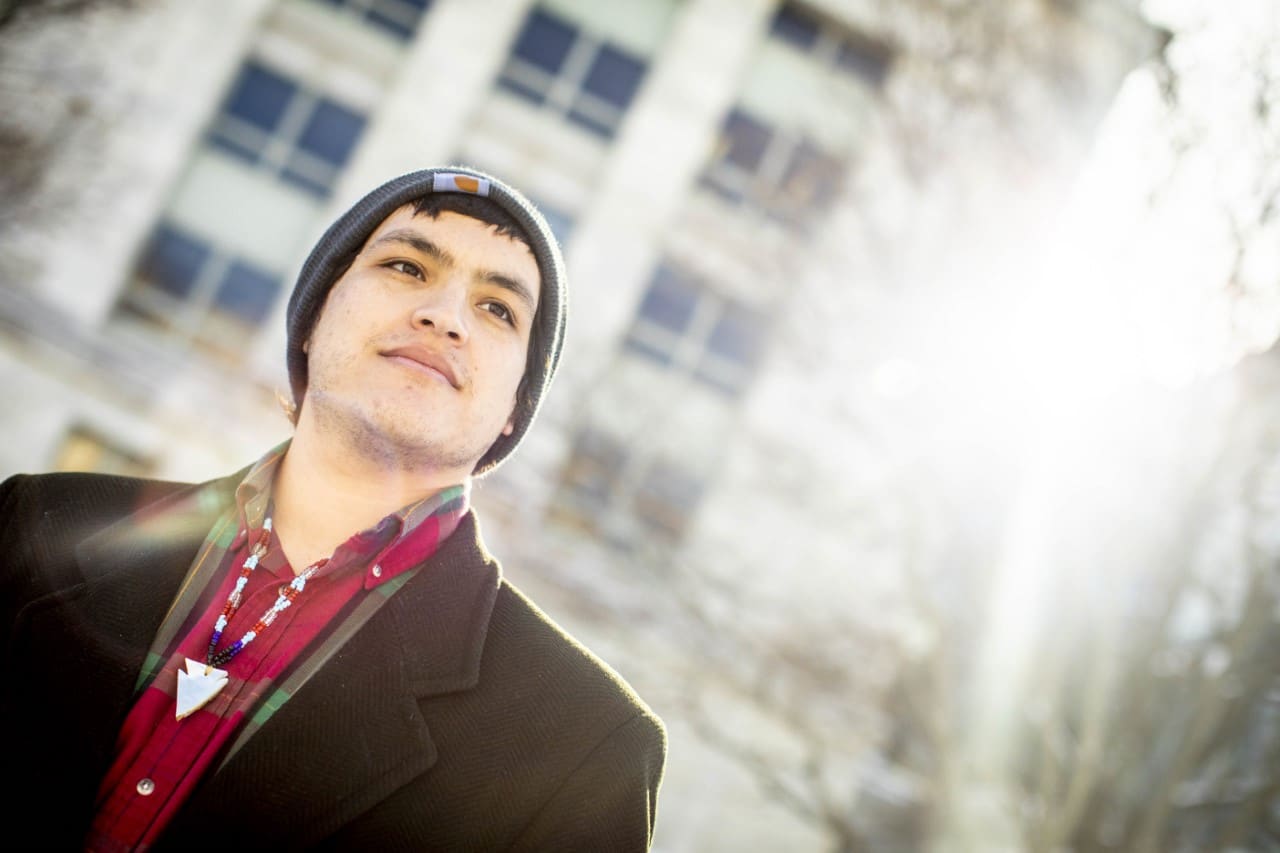 "There's a gap between what medicine is willing to fight for and what communities on the ground are calling for when it comes to their well-being." 
When Victor A. Lopez-Carmen graduates from Harvard Medical School next year, he'll become the first male doctor enrolled in the Crow Creek Sioux Tribe.
"I believe I can make a real systemic impact when it comes to the health of Indigenous Peoples," he said.
As an enrolled member of both the Crow Creek Sioux Tribe (Hunkpati Dakota Oyate) who is also from the Yaqui Nation, Lopez-Carmen has been publicly advocating for Indigenous issues since earning his Bachelors of Science in health sciences and chemistry from Ithaca College – including as co-chair of the United Nations' Global Indigenous Youth Caucus.
Now, he's looking for ways to partner with National Medical Fellowships.
"Consider me a big fan," Lopez-Carmen said. "I love to work with creative organizations and the leaders who steer them, and knowing NMF already has worked with a number of Indigenous scholars, I'd love to be one of them."  

Victor A. Lopez-Carmen
As an infant, Lopez-Carmen lived in the south side of Tucson, AZ, but also lived in the Chickaloon Native Village in Alaska before moving back to central Tucson. He grew up spending his evenings and weekends being babysat by Yaqui elders on the reservation or attending the Pascua Yaqui Boys and Girls Club.
"I attended traditional ceremonies every year of my life, seeing traditional healers when I was sick, surrounded by elders, and steeped in Indigenous activism circles because my parents and family members were and are activists themselves," he said. "Their example, and the example set by my ancestors, taught me that the words Dakota and Yaqui are not nouns – they are verbs. They come with responsibility to your relatives and future generations.
"And that responsibility looks different for different people, but it's a blessing when it aligns with one's passion."
Lopez-Carmen said his passion for science and healing was cemented in seventh grade after he suffered third-degree burns from a fireworks accident while visiting his Yaqui family in Sonora, Mexico, and was unable to receive proper care until he returned home to Arizona.
"Access to quality health care is one of the many vast inequities Indigenous communities still face, including much higher rates of chronic diseases and lower life expectancies," he said. "That is why I'm becoming a doctor." 

Victor A. Lopez-Carmen
Medicine is also in his blood: his mother is a nurse, his grandmother was a midwife, and one of his great-grandfathers by Dakota kinship customs, Dr. Charles Eastman (a.k.a. Ohiyesa), was the second Native American to be certified as a physician in the U.S.
"One of the best things you can do as an Indigenous person is to let your ancestors be the standard," Lopez-Carmen said.
Lopez-Carmen hit the ground running during his higher education by first helping to establish a Native American Studies program at Ithaca College. He also earned a Masters in Public Health as a Fulbright Scholar from Western Sydney University by researching the socio-cultural health and wellbeing of Aboriginal families.
Then he became one of two Native students in his class at Harvard Medical School.
"Whenever I faced tokenism, bias, or an unwelcoming situation, I thought about what my ancestors went through," Lopez-Carmen said. "They were warriors – people who were brave in the face of adversity levels above in horror and difficulty than what we will likely face in our lives – and I continued blazing my own path."
Lopez-Carmen helped develop curriculum on Indigenous health as co-president of Harvard Medical School's Native American Health Organization, served as an appointed member on the Mayor of Boston's COVID-19 Health Inequities Task Force during the pandemic, and founded Translations 4 Our Nations, a grant-funded program translating culturally relevant COVID-19 information in over 40 Indigenous languages from more than 25 countries.
"I'm proud to say that along with learning medicine, I left a mark on HMS when it comes to prioritizing Indigenous health and rights, and that I built lifelong friendships and partnerships with peers and faculty along the way," Lopez-Carmen said.
As a research intern with Brigham and Women's Hospital, he also co-founded an Indigenous youth pathway to medicine program called the Ohiyesa Premedical Program, with Harvard Medical School professor Dr. Valerie Dobiesz, who served as the program's faculty lead.
Outside of Harvard Medical School, Lopez-Carmen also kept extremely busy:
Up until his mandate ended last year, he's served as elected co-chair of the United Nations' Global Indigenous Youth Caucus, working with global policy makers and agencies to raise awareness and make decisions regarding Indigenous health and environmental concerns;
He also clerked for the U.S. House of Representatives in 2019, organizing hearings on youth education, violence against Indigenous women, and climate change;
And finally, he's served as one of two Indigenous representatives for the U.S. White House Health Equity Leaders Roundtable Series since February 2022, networking with global leaders, clinicians, and advocates to further reduce health inequities.  
In particular, the intergenerational health impacts of Indigenous land theft and Black enslavement are at the core of modern-day health disparities," Lopez-Carmen said. "I think the medical field can do better to listen to the calls to action from Black and Indigenous communities to address this context, including the Land Back Movement and the call for Reparations for Descendants of Enslaved People.
There is still a gap between what medicine is willing to fight for and what communities on the ground are calling for when it comes to their well-being."
For his extensive efforts over the last six years, Lopez-Carmen has been featured in Forbes 30 Under 30, BBC, The Boston Globe, and more. However, his dreams remain undeterred and simple: to return home to the Yaqui and Oceti Sakowin (Dakota/Lakota) people and contribute as a physician.
"I want to explore how to be the best doctor and advocate I can be by prescribing public health solutions and anti-racist policies just as much or more so than medications."